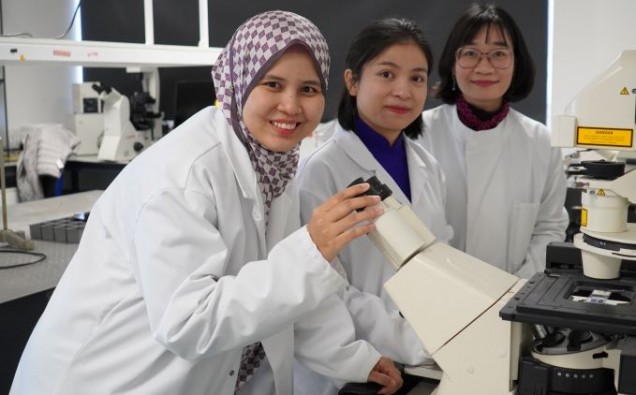 Aston University is helping to increase the number of women engineers across the globe.
The University has welcomed three new early academic fellows as part of the British Council scholarships for women in science, technology, engineering and maths (STEM).
The scheme was set up to help women from the Americas, South Asia, East Asia, western Balkans, central Asia, Brazil, Egypt, Mexico, and Turkey.
According to data from the UN Scientific Education and Cultural Organization (UNESCO) in 2019 fewer than 30 percent of researchers worldwide were women and only 30 percent of female students select STEM-related fields in higher education.
The three fellows' research will be based within Aston Institute of Photonic Technologies (AIPT) where they will also receive industrial mentoring and be offered an industrial placement.
Their areas of specialism cover food industry and agriculture processes, advanced lasers for health and life science, environmental monitoring and wearable devices within healthcare.
Professor Sergei Turitsyn, director of AIPT said:
"According to the recent EngineeringUK report only 16.5% of those working in engineering roles in UK are women. In many other parts of the world proportion is even less.
"We in AiPT are trying not just to say the right words about lack of female engineers, but contribute to changing this. AiPT is trying to embrace diversity and create an inclusive environment where academics, industry, post-doctoral researchers, visiting fellows and PhD students cooperate to overcome major scientific challenges in a creative and collegial atmosphere.
"We have a great team of researchers with a balance of strong industry expertise and top academic experience who will guide and mentor the fellows.
"We believe that our work contributes to the University's new 2030 strategy by increasing our capacity for sustained excellence and impact in science, technology and enterprise taking into accounts various aspects of diversity and inclusion."
In 2022 Aston University became the second UK university to have an engineering department awarded Athena Swan Gold which recognises a commitment to advancing the careers of women and promoting gender equality.
The three new fellows are Nguyen Minh Ngoc and Pham Thi Hong from Vietnam and Shen Omar Nur Alia from Malaysia who have PhDs in STEM subjects.
Minh said: "I was delighted when I found out I had been chosen to be an academic fellow as part of the British Council scholarships for women in science, medical technology, engineering and maths.
"AiPT is one of the world's leading photonics research centres so for us three to have the opportunity to be part of the team at Aston University is an enviable achievement.
"I can't wait to start the next 12 months of my career here in Birmingham."
The three will be supervised by Professor Edik Rafailov, Professor David Webb and Professor Misha Sumetsky.
photo caption (l-r): Shen Omar Nur Alia (Malaysia), Nguyen Minh Ngoc (Vietnam) and Pham Thi Hong (Vietnam)