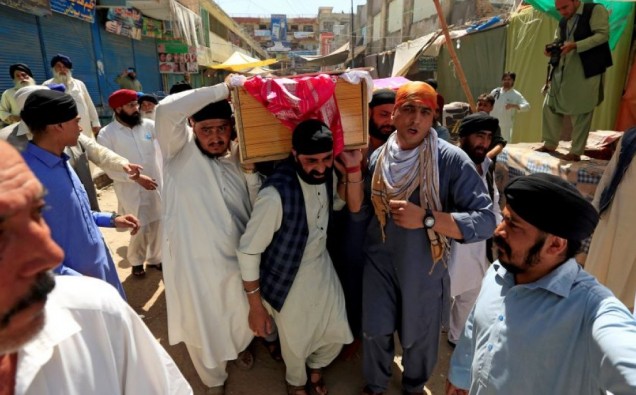 A suicide bomber has targeted a group of Sikhs and two Afghan communities in Jalalabad city, which is the capital of eastern Nangarhar province, killing 19 people.
Tarlok Singh, a member of the Sikh religious minority, said: "They brutalised us. They have martyred 15 and wounded 15 other Sikhs. We are not aligned with any group or party. Why would anyone attack us? We never harmed anyone."
An Afghan health official said that the death toll was higher, with 19 people killed — at least 17 from the Sikh community — and at least 20 others injured.
The Sikh community were on their way to attend a gathering which was led by Afghan President Ashraf Ghani in the provincial governor's office when a suicide bomber on foot detonated his explosive device.
The Islamic state took responsibility for the attack in Jalalabad city; however, the militant group had claimed that they targeted a medical compound.
It is believed to be one of the first times a suicide bomber has targeted members of the Sikh minority group in Afghanistan.
Zabihullah Zimaray, a former provincial council secretary of Nangarhar province, said: "Unfortunately, it is the first time that our Sikhs become the victim of suicide bombing. The leaders of the group and their active community members were all killed or injured today."
Avtar Singh Khalsa, a longtime leader in the Sikh community, was among those killed in the suicide attack.
Khalsa was an unopposed candidate running for the only seat for Afghan Sikh and Hindu minorities in Afghanistan's parliamentary election.
The Afghanistan Independent Human Rights Commission (IHRC) condemned the attack and called the attack on minority groups "… an obvious example of a war crime," and asked the Afghan government to bring those responsible to justice.
IHRC spokesperson Mohammad Bilal Sidiqi said: "The Afghan armed oppositions must respect the international humanitarian laws and human rights values and refrain from targeting specific groups or individuals."