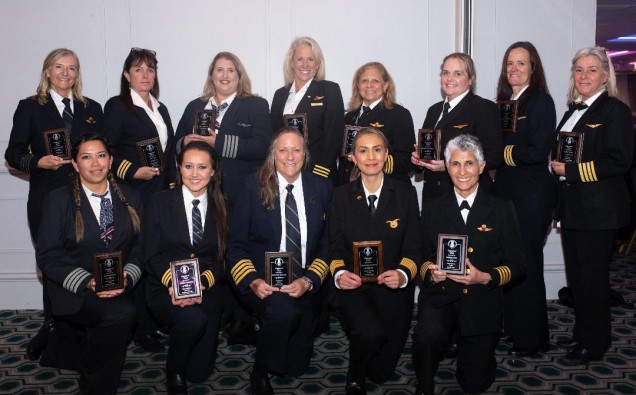 The 44th ISA+21 conference was held from the 19th to the 21st of September at The Davenport Hotel in Dublin. 105 Female pilots attended as representatives of their airlines from the whole world. The conference continued for three days and many activities were conducted by ISA+21. A silent auction was organized where many items were donated to ISA+21 from various companies. This year they raised $13,000, which will be used for the Scholarship Program for young ladies pursuing an airline pilot career. All the female pilots in uniform attended the ISA+21 General Business Meeting where the board members submitted their reports, and several topics were discussed. A notable Captains club induction ceremony was done were women who recently became captains received a special plaque.
What is ISA+21?
ISA+21 (The International Society of Women Airline Pilots) was started with 21 female airline pilots in 1978 when the members of this community were scattered across the globe. There was no trend of the internet and craze of social media or email, so it was difficult to connect. ISA+21 founders Beverley Bass & Stephanie Wallach made a way by writing letters to the chief pilot of every U.S. airline and asking them to put an enclosed letter in the mailbox of any female pilots who have been flying for them.
On May 1978, 21 female airline pilots met in Las Vegas, Nevada for the first Convention sponsored by Continental Airlines. From there, these ladies chartered The International Society of Women Airline Pilots. The main motive to form this community was to support each other in friendship and to inspire young girls to become airline pilots. 
On asking about the future strategies, First Officer Erin Jackson Communications Director of ISA+21 said, "Our future strategies are to continue awarding scholarships for young women who aspire to become an Airline pilot, to support and advocate current airline pilots by meeting regularly and sharing our story with the world. We also have partnerships with sister organizations that have similar interests as ours to promote women in the industry. As well as partnerships with airlines across the globe and pilot unions to make sure their female pilots are aware of the resources available to them."
Captain Maria Cristina Maldonado who attended this conference is an A320 commercial pilot, she started flying for Avianca Airlines, the National Airline in Colombia and is also a volunteer member of ISA+21 stated, "It was the first time that a captain from Colombia attended the conference in 42 years. I had the opportunity to give a speech at the conference and address 105 women who were there. I shared my experience as a Colombian Pilot and about Colombian women. 
The conference was a great moment because it is the opportunity once a year to have all the Airline female pilots representing their countries gathered at the same place, where we share our job experiences in different latitudes of the world and how each one does it. 
I must confess that we had a great time when you have more than 100 women from the same profession at the same place, we tell each other anecdotes. Beyond the conference what really important is the work that ISA has accomplished during 42 years, paving the way for women in a job traditionally dominated by men. We have clear objectives, we are all more than 600 volunteer members from 90 airlines, in 35 countries who have the mission to inspire, support, and advocate for more women who want to become pilots, to encourage more companies and people around the world to make their voluntary donations and thus collect enough money to have funds that allow ISA to grant more scholarships to women who need them."
I would like to thank Pilot Erin Jackson Communications Director of ISA+21 and Captain Maria Cristina for giving their interviews for the Asian World Newspaper.
By: Rida Khan (Aviation Author)
Instagram A/c: aviationauthor.ridakhan