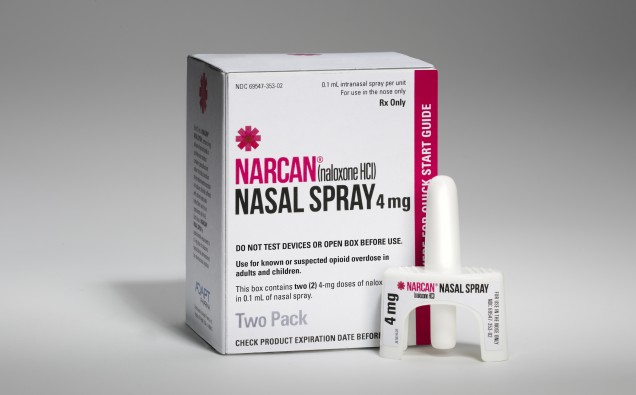 Adapt Pharma today presented results of a survey conducted with Police and Community Organizations describing real-world experiences and outcomes with the FDA-approved 4mg naloxone nasal spray formulation (NARCAN®(naloxone HCI) Nasal Spray 4mg).  The poster, titled Use of Naloxone Nasal Spray in the Community Setting: a Survey of Use by Community Organizations, was presented at the annual American Academy of Pain Medicine (AAPM) in Orlando, Florida.
The survey collected case data and examined the outcomes of attempted opioid-related overdose reversals reported by first responders and community health organizations, where NARCAN® Nasal Spray 4mg was administered. Participating organizations provided data on several outcome measures including reversal outcomes, agents involved in overdose and observed events.
Narcan® Nasal Spray 4 mg was approved under priority review by FDA and launched in February 2016.  We are pleased to have real-world experiences and outcomes with Narcan Nasal Spray presented at AAPM," said Seamus Mulligan, Chief Executive Officer of Adapt Pharma.  "Narcan Nasal Spray was designed to be administered in an emergency by people without specialized medical training."
The survey, conducted in August 2016, was designed and implemented by Synchrony Medical Communications, LLC. Data were generally collected via case report forms or company logs of the participating first responders and community health organization representatives. Real-world data evaluations are limited due to retrospective nature of the data and provider and reviewer biases.
NARCAN® Nasal Spray is the first and only FDA-approved naloxone in a nasal spray for the emergency treatment of opioid overdose. It is now available as a ready-to-use, needle-free, 4 mg dose of naloxone in a single spray. As the first and only FDA-approved naloxone nasal spray, NARCAN® Nasal Spray provides a ready-to-use alternative to currently available opioid overdose emergency treatments. NARCAN® Nasal Spray is not a substitute for emergency medical care, and repeat applications may be necessary.  Seek emergency medical assistance immediately after initial use, keeping the patient under continued surveillance.