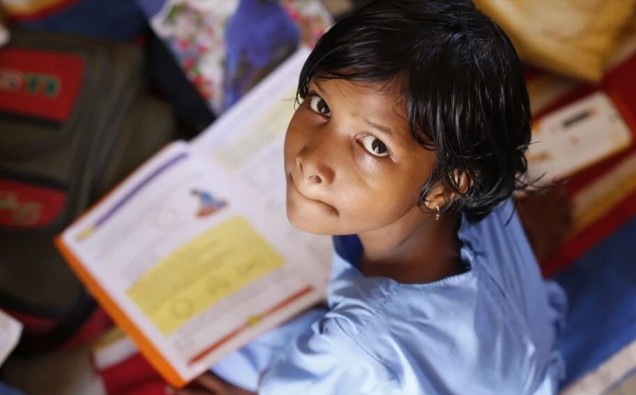 A five-year-old living in Hyderabad was given a free place in school after an image of her peeking into a classroom caused a public outcry 
Divya Lakshman has become a local celebrity after becoming the subject of a recent photograph, which was circulated among millions of people online. It depicted the shy child gazing into a schoolroom while holding an empty container. 
The emotive image of the five-year-old, taken in her southern home city of Hyderabad, was published in a Telugu newspaper. The caption written translates as "hungry gaze", and it quickly generated a response from readers. People began to assume another starving child was being denied food and the fundamental right to education. The next day, the school Divya was sighted at enrolled her without hesitation. 
Staff at the school are hopeful that the media exposure will help promote the institute, as there is a shortage of teachers and materials there. There is no gating around the school, so monitors have to watch for intruders and the safety of the children constantly.  
However, some people, especially parents of the children living in the nearby slum, were displeased with the photo. They said it did not show the full story and left people to make the worst judgements about the state of the child.  
Divya's father, Mr M Lakshman, is a rag collector, and his wife Yashoda, a sweeper. He stated: "I felt sad when I saw the photo" because Divya was portrayed as an unfed orphan when she, in fact, has parents who are "working so hard to give her a good future."  
The concerned parent explained that he was in fact waiting for Divya to turn six, so she could join her other two sisters that attend the school already. Mr Lakshman and his wife also have an older son who has graduated from school already and also take care of his brother-in-law's five orphaned children.  
Mr Lakshman explained that as a plastic and glass recycler, he and his wife earn around £108 a month between them, which is enough to pay for the family's clothing, food, and rent of their one-bedroom apartment. They do not need to pay tuition fees as the neighbouring school is government-run and free to attend.  
Divya's father also explained that his youngest daughter was photographed at the school on that day as she had gone there to take advantage of the leftover free school meals that are given to the younger kids. He said if anything, the popularity of the photograph is allowing children to be enrolled in the school from a younger age and encouraging other youngsters in the slum to attend as well. 
By Manisha Bhanot