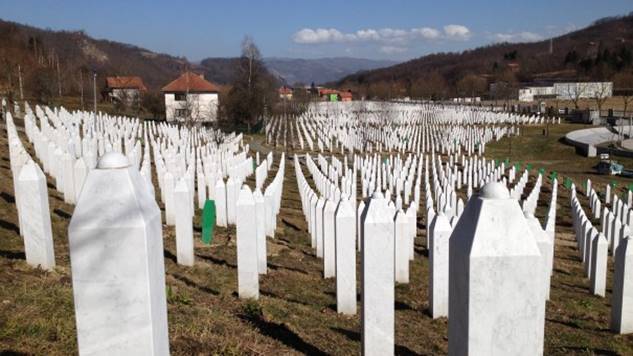 Srebrenica massacre 25 years on: as survivors mourn remotely, Islamic Relief calls on communities to seek justice and stand firmly against division
Islamic Relief is using the 25th anniversary of the Srebrenica genocide to call on people to remember the consequences of not taking action against hate and dehumanisation.
This Saturday, 11 July, will mark 25 years since the beginning of the massacre of more than 8,000 Bosnian Muslims by Bosnian Serb forces in the town of Srebrenica, Bosnia-Herzegovina.
While the coronavirus pandemic is stopping survivors from physically coming together to mourn, many people in Bosnia-Herzegovina are commemorating the atrocity remotely.
Islamic Relief was one of the first international aid agencies to respond when the war broke out in 1992, delivering emergency food, water and medicine to people under siege. When the war ended, Islamic Relief began a long-term reconstruction project, renovating homes for 12,000 people and rebuilding schools and health centres. The charity continues to support survivors of the war, helping poor communities become self-sufficient again.
Emir Cica, Country Director of Islamic Relief Bosnia, said:
'The Srebrenica massacre is one of the most brutal and horrifying events of our lifetime. On the 25th Anniversary of the Srebrenica massacre we honour the victims and survivors of this horrific genocide and pledge ourselves to creating better, stronger and more cohesive societies wherever we are.
'Many in Bosnia-Herzegovina are still fighting for justice and to this day, bodies continue to be excavated and re-buried, giving some families an opportunity to finally grieve, and to perform a janazah prayer for their loved ones.
'The atrocity is a stark reminder of the consequences of not taking action against hate and dehumanisation – it is a lesson in how hatred and intolerance can flourish if left unchallenged.
'This mass murder of Bosnian Muslims happened only 25 years ago, on European soil. Coming after the massacre of 6 million Jews during the Second World War, it is clear that this kind of atrocity against a minority group can happen anywhere and at any time. In our fight against racism and prejudice, it is not enough to just champion tolerance and understanding – we must stand firmly against those who seek to divide us, whoever they may be.
'In remembering the Srebrenica Massacre, we continue to remember those who were murdered; we stand by those seeking justice; and we appeal to those with political power, the media and our fellow human beings to stop the hatred and intolerance which led to this appalling atrocity.'
Tufail Hussain, Director of Islamic Relief UK said:
'Here in the UK, where extremist right-wing rhetoric against minorities, refugees and Muslims, is becoming increasingly mainstreamed, it is more important than ever for us to come together, no matter what our background, to celebrate diversity and to stand together against hatred and prejudice.
'We hope you will join us in mourning the loss of those who died at Srebrenica, but also in reflecting how we as individuals, groups and communities can stand firmly against those who seek to divide us – whoever they may be. We must never forget.'
About Islamic Relief
Islamic Relief is a faith-inspired, development and humanitarian agency working to transform and save the lives of some of the most vulnerable people in over 40 countries. Islamic Relief assists people according to need and does not discriminate in any way.
Set up in Birmingham in 1984 by a group of volunteers, we have assisted over 117 million people all over the world. We're saving lives and empowering people to lift themselves out of poverty in over 40 countries – from Bangladesh to Bosnia, Pakistan to Palestine, Kenya to Kosovo.  Islamic Relief is on the ground in some of the world's most dangerous and difficult places – including Syria and Yemen – strengthening the most marginalised communities to withstand conflict and natural disasters and to build a brighter future. We also support vulnerable people in the UK in partnership with local charities and organisations.
Islamic Relief UK is part of the Islamic Relief Worldwide network.