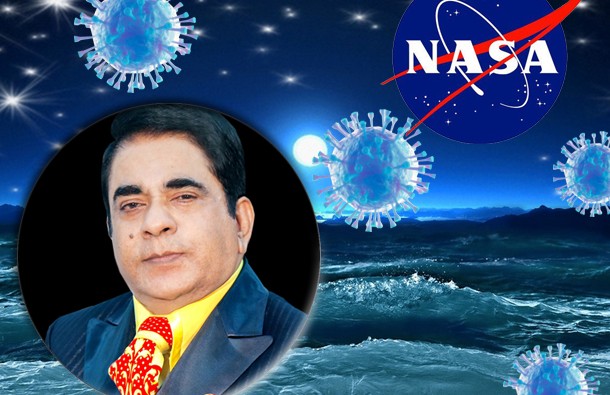 Coronavirus Covid-19 has won a victory over NASA plans to eliminate it.

The National Aeronautics and Space Administration (NASA) under the leadership of Chief Scientist Dr. James Green had begun a series of tests exploring a theory put forward by Bangladeshi arms dealer Dr. Moosa Bin Shamsher.
"I am adamant the virus can be destroyed within 100-hours and the world can return to normal without the use of potentially harmful vaccines," Shamsher had said.
The tests, however, came to an abrupt stop recently when NASA closed its facilities and all staff were sent home as a precaution against contracting the virus.
"Dr. Green phoned and spoke with me in the most apologetic tones capable of any man and told me the bad news. I was dumbstruck," said the flamboyant 72-year-old business tycoon who is worth $82-billion.
"It's ironic NASA should close its doors to safeguard its people against a coronavirus assault, but there's every possibility they've locked-in the very weapon that could destroy it and benefit the entire world," he added.
Dr. Moosa had proposed that NASA make a thick smoke concoction consisting of nuclear, uranium, and sulphur dust and spread it by aircraft from 10,000 feet above earth to kill the virus, but causing no damage to human or animal life.
His theory is based on 40-years of nuclear knowledge, dating back to 1974 when he partnered Adnan Khashoggi, the world's most famous arms and nuclear weapons dealer (now deceased).
Dr. Green and NASA scientists agreed the theory had great merit and established a special NASA research team to explore it. Professor Green wrote and warned Moosa it would not be an overnight result.
"It may take some time before results are known," he told Moosa. "It's a big decision to take. We have to make sure, there are no side effects and no harm will happen after applying this," he wrote.
It's unknown when the NASA doors will reopen, but Moosa is not giving up.
"I have all the confidence in the world that my theory is right. My only hope is that NASA will resume work soon, prove it right and save lives around the world. We don't need global vaccinations that may do more harm than good," he said.