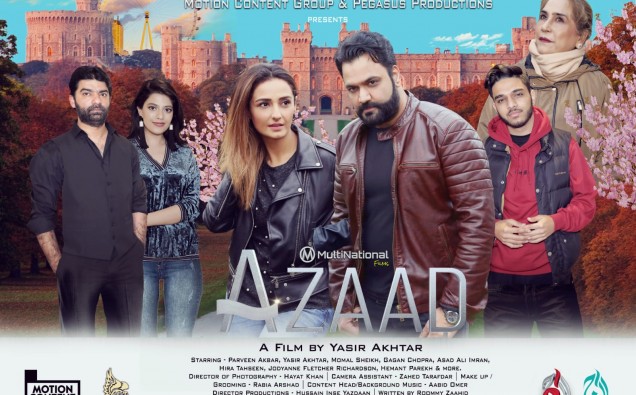 On this Eid a project of Multinational Films 'Azaad' shall be launched by supremely talented Yasir Akhtar. The project 'Azaad' is shot entirely in London. The Multi-talented icon is highly known for executing trendsetting songs and productions in Pakistan and United Kingdom. In recent years, his songs 'Sansani' and 'Take it Easy' has included his profile to BBC Music. 'Azaad' is another avant-garde of Yasir Akhtar which shall project different dimensions of young and experienced talent. This film is presentation of Motion Content Group and Yasir Akhtar's Pegasus Productions.
The singer, actor, director and producer Yasir Akhtar began as a child artist and since then there has been no looking back. As a director and producer, Yasir Akhtar has launched the careers of countless artists. With his new project 'Azaad', Yasir aspires to present the International story telling in an ethnic way by glorifying the differences in culture. Multinational Films is kickstarting their series of films with 'Azaad' and will continue to give more promising films under their banner.
The story of 'Azaad' revolves around two brothers and their mother. Elder brother (Yasir Akhtar), younger brother Aazer (Gagan Chopra) and their mother Mehru (Parveen Akbar).Mehru escaped from Pakistan after her brother in law murders her husband. London becomes her safe haven and she along with her children settles in East-End London. Aazer and Aazad befriends a lot of local people and form a strong bond with their next door neighbor Yasmin (Momal Sheikh). Yasmin's father identity is kept hidden from her mother Nicola (Jodyanne Richardson) and she is in search of her father. Mehru being the sole bread-earner of the family, struggles to provide safe shelter for her sons. Both the brothers are two poles apart in every field of life. Story takes a turning point with the arrival of Dilawar (Imran Ali Asad) in London. He's the cousin of Aazar. Dilawar intrudes in every path of their lives.
After spreading his wings to United Kingdom, Yasir Akhtar started directing and performing with renowned names in the British Asian media industry – Apache Indian, Sahara Group and Stereo Nation among the many other names. Yasir Akhtar also has the honor to start the first Pakistan Parade with the support of Consulate General of Pakistan in the UK in 2014 alongside Amir Khan (Boxer). 'Azaad' is another feather in the cap for Yasir Akhtar. His music videos and drama serials bear witness to this testimony. Yasir Akhtar also directed and produced 'Sard Aag' and 'Laahasil' in London, UK for Hum TV.
'Azaad' was shot in the frosty winters of London. Parveen Akbar – one of the senior artists from Pakistan served as the mainstay of this project. Momal Sheikh stood resilient against the unfriendly winters of London and delved into her role. The both ladies did complete justice to their respective roles.
After producing so many ground breaking songs of his musical group The Arid Zone to Music Channel Charts of Pakistan – Tapal Cinema till now, Yasir Akhtar's productions are incomplete without a mellifluous song. The song  'Saiyaan' will be an integral part of Azaad. It's written by Irfan Saleem and Yasir Akhtar. Aabid Omer is the music and content head of this project. Other prudent names include: Zahid Ali and Sohail Anwar.
'Azaad' will also serve as the medium to introduce the sprouting careers of two actors – Gagan Chopra from London and Imran Ali Asad from Glasgow. In the past, Yasir Akhtar's directorial ventures and productions have launched the careers of Humayun Saeed, Shamoon Abbasi, Tooba Siddiqui, Zara Sheikh, Nida Yasir, Javeria Abbasi, Komal Rizvi, Fakhr e Alam, Nadeem Jafri, Amreena Khan and the list includes countless renowned names.
The auditions for this project took place in Birmingham, London, Bradford and Manchester. A Pakistani living away from his homeland faces a lot of hardships while executing such a big project overseas and introducing newcomers. Yasir Akhtar also holds the honour to direct and produce the first ever Pop Chart show of Pakistan – Music Channel Charts.
Yasir  will continue direction under the banner of 'Multinational Films' and may join hands with other talented directors. Along with exhibiting his talent in major roles, Yasir Akhtar would also love to try his hand in different character roles as well. Repetition of roles in new storylines is also welcomed by him. For instance he would love to recreate the role of Armaan from his famous drama serial 'Jayen Kahan Armaan'. JKA was renewed for season 2 because of audiences attachment with Armaan's character. 'Sard Aag' which aired on Hum TV was also highly appreciated by the audiences and Yasir Akhtar would love to recreate its magic on screen.
Yasir Akhtar's better half – Lubna Akhtar laid the foundation of Pegasus Productions and since the beginning has rendered her services as an executive producer. Yasir Akhtar always has a major part in script writing and along with him, Azaad is written by Roomy Zahid from Bradford. Yasir Akhtar has worked with seasoned writers like Zubair Abbasi, Seema Ghazal, Hameed Kashmiri, Asad Mohammad Khan and many more. Camerawork has been done by Hayat Khan and Kerem Isik has engineered the sound skill-fully. Zahed Tarafdar and Hira Tehseen have worked strenuously as assistants. After the production, the young writer Roommy Zahid left for heavenly abode after losing his fight against cancer.
Azaad will be a mega project inculcating all the major forms of art. Music, drama, shows, performances have always been a part of Yasir Akhtar's credentials. The eyes will be treated with beautiful locations and they will get to witness meaningful script along with strong storyline. Azaad will widen the spectrum of his work and will be a delight for the audiences on this Eid.