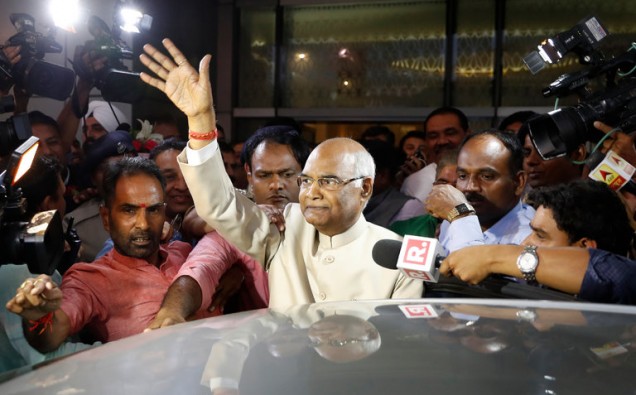 By Spandan Manwatkar
News Correspondent
Ram Nath Kovind of Bhartiya Janata Party (BJP) has been elected as the 14th President of India. He is the second president, after K R Narayan, to have come from Dalit caste, commonly known as 'the untouchables' who have been oppressed by the higher castes of the Hindu hierarchy.
Choosing Kovind for the presidential position is a bold move by the BJP merely to attract the Dalit community of around 250 million people. BJP previously attracted them when Prime Minister Narendra Modi made promises for the economic development of the Dalits. And unlike previous President Pranab Mukherjee, Kovind is expected to remain in step with Modi.
"But they [previous presidents of India] all had one thing in common – a fairly long and well known record in what is known as 'public life' before assuming the role of head of state," commented Manini Chatterjee in the Telegraph.
Political agenda aside, Kovind has vowed to uplift the less fortunate of the country. In his acceptance speech, he said, "it has been raining since morning in Delhi. This weather reminds me of my childhood days when I used to live in my ancestral village. We lived in a 'kuchha' house made of mud. The thatched roof couldn't stop the water trickles during the rainy season. I, along with my brothers and sisters, used to stand in a corner and wait for the rain to stop."
"There would be many such Ram Nath Kovinds who are getting drenched in the rain. Many would be working hard in farms and elsewhere to earn their livelihood in this rain. They would be shedding sweat to earn the night's meal," he added.
He then addressed the dalit community and said, "Today, I wish to tell them that Ram Nath Kovind of Paraunkh village is going to Rashtrapati Bhavan as their representative. I represent all those hardworking people. This is also a message to those who earn their livelihood with hard work and honesty."
Kovind has been a two-time Rajya Sabha MP and former BJP spokesman and was the Bihar governor till recently. Even though he had cleared Civil Services after graduating in law, he did not join it. He was also the personal associate to Morarji Desai before he became the prime minister. He is considered to have had a clean past and avoid the limelight.