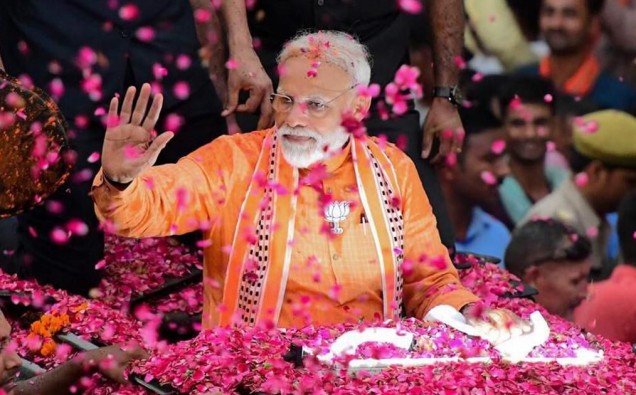 His Bharatiya Janata Party (BJP) exceeded poll predictions 
Narendra Modi has won the public's votes in India and will return as Prime Minister for a second term. He is now responsible for controlling the destiny of the world's largest democracy. Soon after the results were announced, he tweeted "Thank you India! The faith placed in our alliance is humbling and gives us strength to work even harder to fulfil people's aspirations. 
Together we grow. Together we prosper. Together we will build a strong and inclusive India. India wins yet again!" 
BJP won over 300 of the 543 seats in parliament, defeating their main opposition, Rahul Gandhi's Congress party who won only 100 seats. During the six-week voting process, over 600 million people registered their votes, however, 900 million were eligible to vote, therefore making it the largest election the world has ever seen. Not only did Mr Modi exceed the poll predictions, he also won a greater share of the vote than his 2014 partial results show.  
Not all are pleased with Mr Modi's triumph, as many argue that under his leadership, joblessness has risen to the highest record, industrial production has declined, and farm incomes have dropped. The biggest issue for Mr Modi to now tackle is the economy of the nation as India heads closer to a recession.  
Under Mr Modi, India has lost its reputation as the world's sixth-largest economy and in a leaked government report, it stated that unemployment rates in India are at their highest since 1970. These fears of recession will mean that Mr Modi will be demanded to provide jobs for millions of young people in the upcoming months.   
Farmers in India have also felt that Mr Modi has dismissed their needs as following a crop glute there has been a decrease in commodity prices, which resulted in their incomes dramatically declining. They are now hoping that the prime minister prioritises the agriculture industry.  
Many of India's citizens viewed the election as a battle for the protection of minorities and India's identity. This is in result of the increased Hindu nationalism in the past five years, with various attacks against the minorities in India. 
However, based on the results, not all people blame Mr Modi for these problems that India are now facing. The prime minister told citizens that his first five years was not enough, and he needed an extra five years to resolve more than "60 years of mismanagement".  
Many Indians believe that Mr Modi will solve the problems of the nation, a survey by the Centre for the Study of Developing Societies (CSDS) revealed that a third of BJP voters would not have voted for the party if Mr Modi was not the prime ministerial candidate. Therefore, proving that the election was more about his leadership than anything else. 
Imran Khan, Pakistani Prime Minister, congratulated Modi on his landslide on Twitter, "I congratulate Prime Minister Modi on the electoral victory of BJP and allies. Look forward to working with him for peace, progress and prosperity in South Asia." 
Navkiran Bains