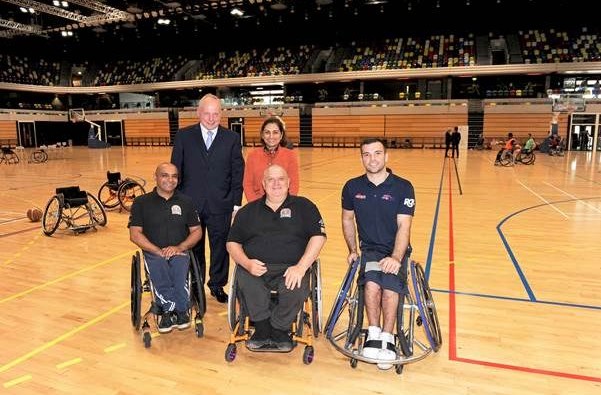 Path to Success, a charity founded by leading Indian philanthropist Anita Choudhrie is raising money for disabled children and Wheelchair Basketball stars at a showpiece gala dinner on October 5th.
The charity was founded by Mrs Choudhrie in 2006, and provides financial support to different causes, with a focus on Disability, Homelessness and Education in both the UK and India. Money raised on the night will go towards London Titans Wheelchair Basketball Club and the Action for Kids charity.
In over a decade of fundraising, the charity has had a profound impact in supporting wheelchair users in particular, raising over £300,000 through a number of initiatives.
This is exemplified by Path to Success's sponsorship of the London Titans Wheelchair Basketball Club over the last two years. Recently they presented Team GB youth stars Christy Gregan and Sophie Patterson with £22,500 each to aid them in their quest to break into the senior Team GB squad for the Tokyo Olympics in 2020, a life changing opportunity for the pair to represent their country on the greatest global stage.
The Charity's annual Fundraising Gala Dinner will be held at the Chelsea Harbour Hotel in London, where the theme will be 'The Magic of Childhood'. Guests are being asked to dress in black tie with a touch of their favourite childhood character. There will be entertainment from the superb Incognito Artists, an elite team of West End stars who count Emily Carey, who recently starred as young Diana in box office hit 'Wonder Woman', among their number.
Money raised by the event will be used to help individuals overcome their difficulties and turn inability into ability. Funds raised for London Titans will go towards the upkeep of the club, which receives no central sports funding, while money raised for Action for Kids will go towards helping disabled children and young adults, by providing wheelchairs and mobility equipment to give the children a positive life changing possibility, independence, mobility and a chance to live life to its fullest.
Tables of 12 are available for £5,000 for the dinner, while individual tickets cost £500.
Mrs Choudhrie's extensive philanthropic work has also been influential in India for many years, where her support for the renowned Amar Jyoti Trust and their Wheelchair Basketball Team has had a profound impact in helping children with disabilities in India. In January this year three players of the Wheelchair Basketball Team were selected to take part for the first time in U23 Asia Oceania Zone qualifying tournament that was held in Bangkok.
Ahead of the Gala Dinner, Mrs Choudhrie said:
"Over the last eleven years it has been a privilege for Path to Success to be able to provide support to those who most need it in society.
We are very excited to be offering our support to Action for Kids, London Titans and Amar Jyoti Trust, and we look forward to helping children turn their inability into ability.
Please join us on Thursday 5th October 2017 as one of our valued guests."