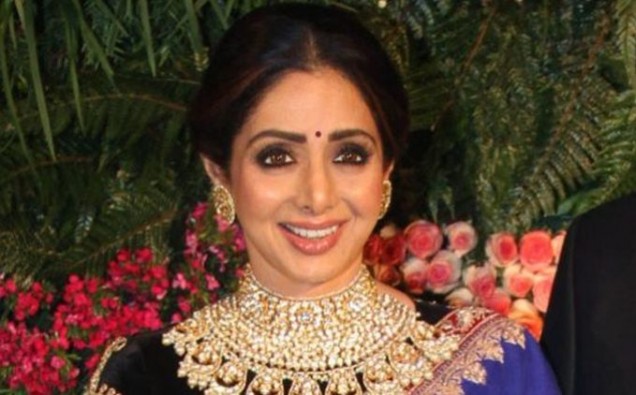 India is in mourning today, following the death of one of their most coveted showbiz entertainment goddesses.
Sridevi Kapoor, who has starred in over three-hundred Bollywood films throughout her glittering career – which spanned a remarkable five decades – fell victim to a heart attack on Saturday (24/02/18). These included timeless classics such as Mr India, Chandni, ChaalBaaz and Sadma to name but a few. She reportedly suffered the heart attack whilst attending a family wedding in Dubai.
The actress was believed to be in the United Arab Emirates to attend the wedding of her nephew, Mohit Marwah. Her husband and daughter, Khushi, were with her when she passed away on Saturday, reports claim. Sanjay Kapoor, her brother-in-law, said the fatal incident had occurred at around 23:00 local time (19:00 GMT), according to news site The Indian Express. He did not provide further detail.
Top Bollywood figures, sporting giants and leading politicians were widely stunned, with Prime Minister Narendra Modi saying he was "saddened" by her death. Huge Crowds began to gather outside Bollywood star's home as news of her death filtered through in Mumbai.
A spokesperson for Sridevi's husband, who is the producer Boney Kapoor, told the Indian news agency Asian News International that her body would be flown from Dubai to Mumbai on Monday.
Kapoor was considered a rare breed due to her ability as one of the very few Indian female superstars, capable of a huge box office haul despite the lack of a dominant male protagonist featuring beside her. All the more impressive as the overriding culture of Bollywood classics stems from a male hero flanked by his glamorous female counterpart.
Sridevi also starred in films in the Tamil, Telugu, Malayalam, Kannada and Hindi languages. Her acting career began at the tender age of four with a flourish and by 13 she was cast in the adult role of a complicated woman avenging her lover's death. Kapoor then debuted as a lead actress in a Bollywood film in 1978, soon becoming one of India's biggest film stars and inevitably a household name.
Her glamorous looks aided her in endearing herself to the Bollywood stratosphere.
The actress took an abrupt hiatus from the film industry however in 1997, following the release of Judaai. She then made an eagerly anticipated comeback in 2012, starring in English hit Vinglish.
In 2013, Kapoor was awarded her the Padma Shri by Indian government officials – the fourth highest civilian honour.
by Zakaria Abraham