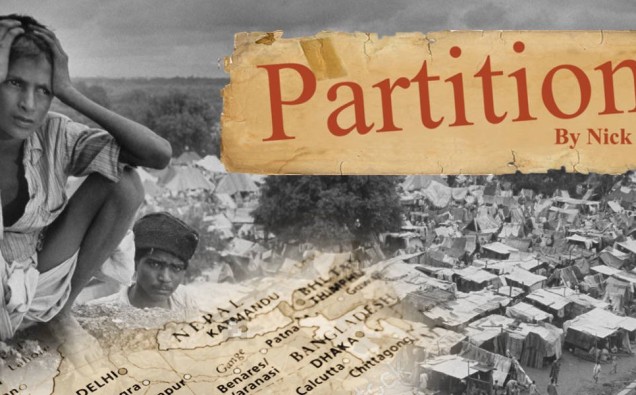 BBC Radio Leeds and West Yorkshire Playhouse are coming together to present Partition – a radio broadcast and live performance of a specially commissioned radio play which will mark the 70th anniversary of the division of India and creation of Pakistan.
Written by Leeds writer and established arts journalist Nick Ahad and directed by Stefan Escreet, Partition explores the devastating legacy of the religious division which cost around a million lives, through the eyes of a modern day couple.
The play will be broadcast on BBC Radio Leeds (and a number of other BBC local radio stations) at midnight on 14/15 August, which marks the exact time when the British partitioned India 70 years ago. It will then be performed in front of a live audience at the Courtyard Theatre, West Yorkshire Playhouse, on 8 and 9 September, and tickets are free.
BBC Radio Leeds Editor, Sanjiv Buttoo, said: "Partition is very much an important landmark for our South Asian communities, and the memories of 70 years ago are still fresh for the current generation of British Indian and British Pakistani families.
"Historically this world event saw the largest ever movement of mankind, so we commissioned this play to give an insight of how it still affects our lives in a profound way.
"We are very proud and excited to be working closely with the team at West Yorkshire Playhouse to bring our listeners history in a modern, contemporary and relevant way".
Partition will open West Yorkshire Playhouse's Autumn/Winter 17 Season, a collection of diverse stories from across the world, retold by theatre makers.
Written from the viewpoint of modern day couple Saima and Ranjit, it tells the tale of how, 70 years after it was abruptly divided, the history of the Indian sub-continent continues to tear families apart. Saima and Ranjit's wedding should be the happiest day of their lives but Saima's Muslim and Ranjit's Sikh parents are not by their side, and hate, not love hangs over this couple's union.  Will love or hate prevail?
Writer of Partition, Nick Ahad, said: "It is a huge privilege to be the writer for the first project that brings together the two cultural institutions of BBC Radio Leeds and West Yorkshire Playhouse.
"The story of Partition is one that continues to deeply affect British families whose roots lie in India, Pakistan and Bangladesh. It is incredibly exciting to be able to explore this story with the powerful mediums of both radio and theatre.
"Alone, they are enormously effective ways of delivering a story. Bringing them together in this unique project will, I hope, have a hugely resonant power."
West Yorkshire Playhouse Artistic Director, James Brining, said: "We are thrilled to be working with BBC Radio Leeds to commemorate the 70th anniversary of Partition. It's fantastic for two leading West Yorkshire organisations to collaborate by staging this production marking such an important chapter in the political and social history of the lives of many of the region's citizens.
"This partnership offers us the unprecedented opportunity to combine both our knowledge and skills. To be able to share this story with the community, engaging those we may not otherwise reach, is certainly something to be celebrated."
Tickets for the performances of Partition at West Yorkshire Playhouse must be reserved.  For further information: https://www.wyp.org.uk/about/whats-on