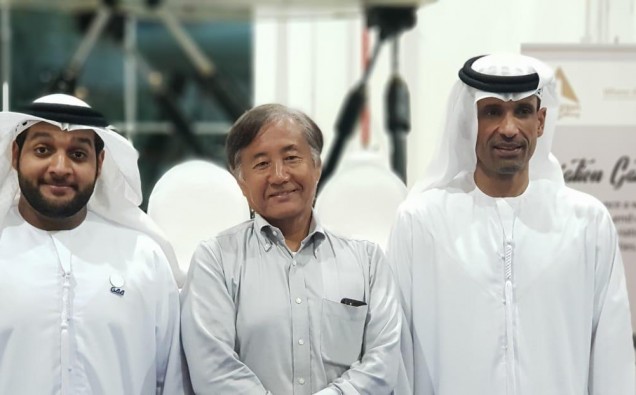 15th Nov. 2018 , 4th Aviation Gathering was held at Gulf Aviation Academy Bahrain. It was hosted outside the country, in the kingdom of Bahrain on the side-lines of Bahraini International Air show of the world.
Now first let's know about this gathering. What is Aviation Gathering all about  ?
This gathering is organized to meet recognized aviators, people from the wide field of aviation who participate to greet and exchange knowledge and experience .The founder of Aviation Gathering is Ahmed Balfaqih ( Instagram a/c – a_balfaqih) there are 4 members who are the organizers of this gathering. Including 2 pilots , a female industrial engineering student and a female aerospace engineering student. The motive behind to conduct this event is to spread knowledge and experience among aviators and people in the field of aviation in addition to attract and guide youth who seek careers in the aviation field. Till now they have successfully conducted 3 events in U.A.E . Their first event was organized in March 2018.
1st Aviation Gathering was held in Al- Raha hotel as an outdoor event. V.I.P guest for this event was H.H. Zayed Bin Ahmed Al – Nahyan.
2nd Aviation Gathering was held in Dubai Marina ( Sea trip on a yacht ) , V.I.P guest was Al Fursan group leader.
3rd Aviation Gathering was held in Royal Cinema , V.I.P guest was Captain Khalfan Al Mazroouie , Al Fursan leader and many expert pilots as well as Captain Salma Al blooshi.
Captain Khalfan Al Mazroouie ( Instagram a/c – @capt7773) shared his experience & said "I was invited as a guest in their 3rd aviation gathering. It was quite interesting & informative, there were group discussions & slideshows on various aviation topics. Overall I think this gathering is very helpful for the people who are working in aviation industry and to those who have made goals to build their career in aviation. I feel honoured and privileged to be a part of this gathering and thanks to the whole team of Aviation Gathering for inviting me for their event."
The 4th Aviation Gathering which was hosted to attract the people from Dubai , Saudi Arabia, Kuwait and Bahrain . There were different topics of discussions like Recent Aviation Disasters, Females in Aviation, Common mistakes in Aviation etc. Organizers  of the event had divided the discussion topics among different panel groups which includes –  pilots, aircraft engineers and leading social media aviation accounts .
The guest list consist of people who are working in various fields of aviation industry like –
Hend Alawadhi (Instagram A/c – @hend_alawadhi) – The first female Bahraini Aviation Engineer.
Suaad Alshamsi ( Instagram a/c – @suaadalshamsi ) – The first Female Emirati Aviation Engineer.
Nasser ( Instagram a/c – @alfursan_leader) – Leader of UAE National Aerobatic Team.
Captain Hassan ( Instagram a/c – captain_hmg)
Captain Feras ( Instagram a/c – @capt_feras)
SalemZ ( Instagram a/c – @abudhabiaviation)
Mohamed S. Ali ( Instagram a/c – @bahrain_wings) – Aircraft Technician
Arab Aviation ( Instagram a/c – @arabaviation)
Bader Models (Instagram a/c -@badermodels) – They make Aircraft models in Bahrain
Shereen – ( Instagram a/c – @shereenalmazroui) – Aviation Engineer
Mohsin Albeshr ( Instagram a/c – @mohsinalbeshr) – Aircraft Engineer
Talel Alattar – ( Instagram a/c – taleb_alattar) – A Pilot & a Teacher
Hussain Hamada ( Instagram a/c – @hamada09) – Engineer
Ahmad ( Instagram a/c – @ahmad.alotalba)
Pilot Salma AlBaloushi( Instagram a/c – pilotsalma) – First Emirati Female Pilot  & Hamad Al Sheryani ( Instagram a/c – alfursan_11)  – Member of UAE Aerobatic Team  they both have given their continuous support throughout, in all the 4 gatherings.
There were discussions & various presentations held by the panel members. People who attended the event was very interestingly listening and grasping the views shared by the experts. First time in my life I saw that audience were not getting bored in this event. Instead some were noting down the important points from discussions which was going on by the panel members, some were talking to the expert pilots and discussing on the topics which they want to know more about it, there was a group photo sessions, thanks giving gifts from the side of Aviation Gathering team,  all around were the smiling faces talking & greeting each other. They created a friendly atmosphere where people not known to each other became friends with each other who are working in this industry.
I got the opportunity to interview some panel members like –
Suaad sultan alshamsi  ( First uae female aircraft engineer and one of the co finder of woman in aviation middle east chapter.)  said,  " The topic i was talking about in the conference was the challenges that face woman in the aviation industry and the new generation who is planning to enter this industry. Starting with my story from 12 years ago i never find anyone who can help me in this industry and advice me about what positive and negative challenges i have to face working in this profession. It was a detailed discussion topic which included my professional life.
My experience in the event was a great opportunity to meet alot of ladies within the region sharing information and knowledge."
Captain Feras Malallah (@capt_feras) Kuwait Airways Captain -" It was an honour to be a part of Aviation Gathering, we get to know so many experienced people working in our field, their views helps to improve ourselves. Talking on different subject matter related to aviation not only increase our knowledge but also make us aware of recent happenings in aviation . If in one line I have to describe this event. It is a knowledge based gathering which motivates everyone to learn new things about the aviation industry."
While covering this aviation news event at the end, I will say this gathering is a special & unique event in aviation industry. It's the best way to learn & educate ourselves  and not only this we also get to know about so many expert pilots, aircraft engineers, technicians, aviation media channels under one roof. I would like to thank the founder of Aviation Gathering Ahmed Balfaqih who gave me permission to cover article on their event . Nouf who helped me a lot continuously in providing the detailed information of the event .
From the side of Asian World Newspaper  UK we wish the whole team of Aviation Gathering a great success for all their  future events and endeavours. 
Aviation Gathering ( Instagram a/c – @aviationgathering )
By : Rida Khan ( Aviation Author )
(Instagram a/c – @aviationauthor.ridakhan)