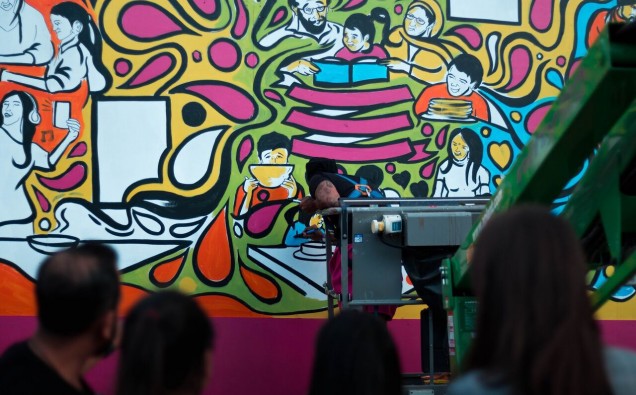 A new venture and collaboration with world-renowned graphic artist Inkquisitive has been released, whose fans include Drake, JLo and Jay Sean. 
This work sees the artist, real name Amandeep Singh whose unique style consists of brightly coloured ink sketches, create a beautiful illustration and digital piece for Elephant Atta called 'Heart of the Family'. The art piece depicts families cooking, sharing and enjoying chapattis. 
Say's Inkquisitive 
In the creation of the artwork for this project I've tried to reflect the importance of family, love and bringing everyone together – it's an artwork that adds a warmth for people to feel and not just to view. I've learnt so much about the history, tradition and importance of the values Elephant Atta stands for and represents – it's been a real pleasure working with the brand". 
The artist designed a huge mural 16 ft (w) x 8ft (h) live at the recent London Mela.   
Brands who collaborated with the piece said: 
"We were inspired not only by Amandeep's artwork but also by his deep-rooted respect for culture and tradition. We are looking for a suitable site for the piece so that as many people as possible can enjoy looking at it and creating their own story from it."   
The collaboration has been seen as an opportunity to showcase the importance of keeping traditions like chapatti making alive and relevant for a younger audience. Inkquisitive's artistic creation is the perfect canvas on which to celebrate South Asian culture and lifestyles.