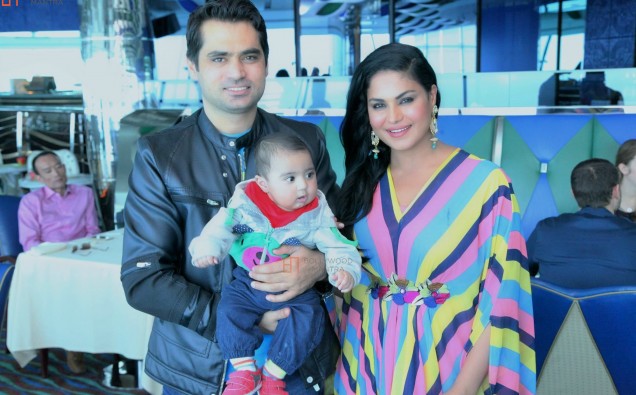 By Divya Soni
Just days after it was revealed that Veena Malik filed for divorce, the actor has revealed her husband Asad Khattak had been abusive to her.
The couple were married in Dubai in 2013. They have two children together.
Host Waseem Badami had invited Veena and her husband to his news programme 11th Hour in an attempt to solve their differences. He also invited Maulana Tariq Jameel to 'facilitate' the process.
Apparently her husband asks for forgiveness "every single day", but Veena said there are two things she couldn't forgive:
"First, that he beat me; second, that he disrespected me… not once, but repeatedly," she said.
Maulana assured Veena that his 'vote is with her' but also encouraged her to forgive her husband and "give him another chance".
"Your happiness is dear to me, but I also wish to see you raising a family," he told her.
"If he is asking you for forgiveness, give him one chance," he said. "He is saying it before so many people; he should be given another chance."
"I cannot question you Maulana sahib," Veena finally agreed.
But not without asking the religious scholar to obtain a written contract from her husband, to which Asad agreed.
"You are saying these things on such a massive platform; you must ensure you don't give her a cause for complaint now." Maulana warned Asad.
"He has been asking my forgiveness for a long time, but I had told him something clearly. The sun could rise from the west, but I would not be ready to reconcile with him," she said.
"He has annoyed me a great deal in three years, he has worried me so much," added the actor.
"I am ready to give him another chance but it will all be done through court," Veena decided.
She had filed a plea in a Lahore court in 2017 for a khula (dissolution of marriage) from her husband, which was issued in her favour.
The couple have 90 days to reconcile and if the defendant still fails to show up in court, the divorce will not be reversible, according to the actor's lawyer.