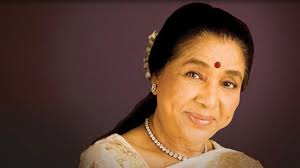 Legendary singer Asha Bhosle received an Honorary Doctor of Arts degree from the University of Salford in recognition of her contribution towards the field of music and media.  
Asha was born in 1933 in Goar, a small village in Eastern Indian. She was widely recognised as one of Bollywood's most popular singers, through her unique vocal range and long-running career.  
Asha sung in more than 20 languages and recorded over 22,000 songs, making fame in the Guinness Book of Records in 2011.  
The legendary singer has served as an inspiration for individuals who are pursuing popular Indian music through the popularity of Bollywood films that she has featured in.  
Pro Vice-Chancellor of the University of Salford, Jo Purves presented the Honorary Doctorate to Asha Bhosle at a formal ceremony located at Saint Regis Hotel in Mumbai, India. 
Pro Vice-Chancellor Purves said: "Asha's achievements as a musician cannot be understated. Throughout her career, Asha has left a lasting impression in the industry by transforming traditional Hindustani music to inspire future generations across all nations to get involved in arts and the media." 
"We're truly delighted to be honouring Asha for her accomplishments whilst celebrating her influence on modern British culture." 
The University of Salford has a long history of supporting the Indian culture and has also sponsored the national Asian Media Awards for many years.  
The School of Arts and Media aim to inspire the next generation of stars across many sectors, including Journalists to film-makers, actors and performers.   
The degree was awarded as part of a series of announcements made by a 30-strong delegation from Greater Manchester, which was led by the Manchester India Partnership that was set up in 2018 to strengthen the ties between India and UK in the fields of culture, education, tourism trade and investment.  
Continuing its investment in the region, the University of Salford also signed a memorandum of understanding with Karnataka State Higher Education Council in Bangalore.