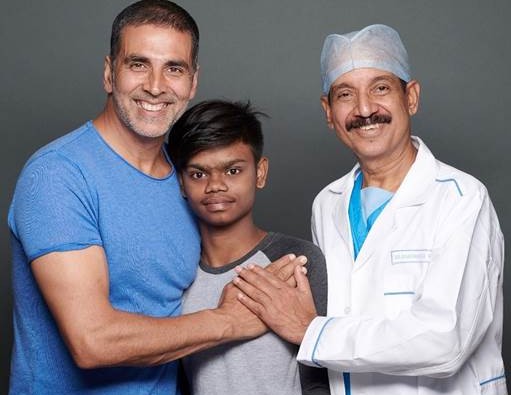 Akshay Kumar may be one of Bollywood's biggest stars, but he is just as well known for his humble and generous nature, demonstrated by his patronage and support for a range of charities. The most recent campaign to receive Akshay's support is the Happy Heart India campaign, which could see his charitable heart help children in need across India receive a healthy one.
Launched by Akshay himself, the Happy Heart India campaign is a new initiative from the Asian Heart Institute that encourages people to nominate an underprivileged child aged 12 or under who they may know and is in need of heart surgery but does not have the means to access a life-saving intervention.
As the face of the campaign, Akshay plays a pivotal role in spreading healthy heart habits and encouraging people to nominate those in need. Speaking about the initiative Akshay said: "I am delighted to take this message of 'have the heart to save a heart' all over India. This campaign is about surgical interventions for the underprivileged- in the spirit of community service."
On World Health Day, Akshay tweeted: "Happy Heart India, an initiative to help underprivileged children with free heart surgeries. To nominate a child, email happyheartindia.asianheart@ahirc.com . Have a heart, to save a heart ❤ "
This is not the first time Akshay Kumar has supported the Asian Heart Institute. The star has often shown his support for the Institute and has helped to launch previous initiatives including the health and accident insurance scheme for stuntsmen and women on film sets and the launch of a CSR initiative.
This latest news not only confirms that Akshay is a star with a good heart, but that he is determined to make sure everyone else's is too!
Akshay will be joined as face of the campaign by actress Pooja Chopra. Discussing the initiative Pooja said, "Its high time we defined the behaviours and habits we need to adopt if we are to become happy citizens of a hearty India. The age of onset of heart disease is getting younger, and this is a cause for grave concern."