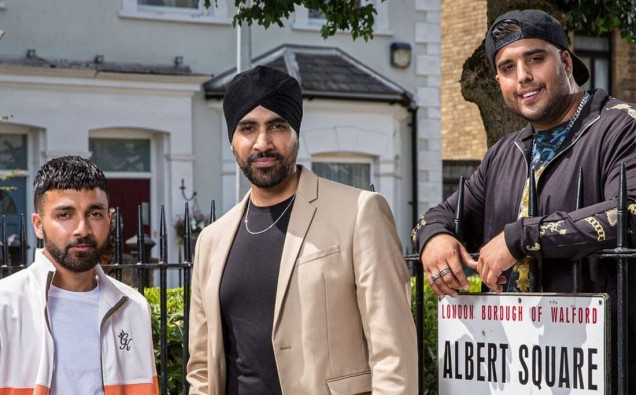 The Panesar brothers have made their debut in Albert Square 
The hugely popular British soap drama Eastenders has announced the arrival of a new trio on the small-screen this autumn. The Panesar brothers; Vinny, Kherat and Jags are the first Sikh family to star in the show since its 34 years of running.  
The new characters are being played by actors Jaz Deol, Amar Adatia and Shiv Jolata, who will be making their soap debuts. Insider information has revealed that the brothers have very contrasting personalities but work well together as an implicit team: "they're a force to be reckoned with." 
The youngest of the bunch is Vinny, the troublemaker and rule-breaker. So, viewers can expect the drama to unfold wherever he's at. He has already begun to ruffle a few feathers in Walford. Respectively, the oldest sibling is Kheerat, an intelligent and confident businessman who is determined to charm his way into just about anything. Fulfilling the role of the big brother, he will undoubtedly have to keep Vinny and Jags out of trouble. 
However, as the middle child, Jags unsurprisingly has issues of his own. He's always seeking approval from others and strives to be in Kheerat's shoes. Although, he usually seems to leave the rest of the family annoyed at disappointing outcomes of his plans!  
The trio is seen to be going head to head soon with at least one other family in the show during the upcoming episodes. A quick turn of fate in the characters' situation sees them staying in Albert Square for the future.  
Executive Producer Jon Sen said: "A British Asian family of Punjabi Sikh heritage, Kheerat, Jags and Vinny are brothers who turn up in Walford looking to settle a score." 
Actor Jay, who plays Kheerat, said: "I'm very proud and excited to be joining such an iconic show and bringing to life a character that is a reflection of the cultural background that I and many others come from in today's modern Britain. I can't wait to get started and for viewers to meet the Panesars." 
Actor Amar Adita (Brief Encounters, Dead Ringer, 9/11) who plays Jags added: "My younger self would never have believed I'd be on EastEnders. It's pretty amazing to be part of one of the most iconic television shows alongside some of the best actors in the business. I really am so grateful." 
By Manisha Bhanot