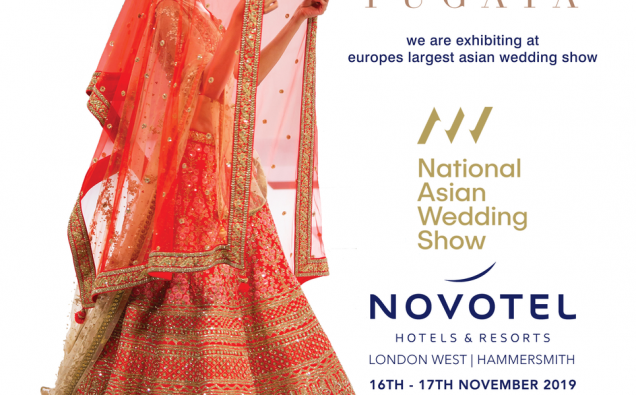 Pugata Jewellery showcased their highly acclaimed bridal jewellery at the National Asian Wedding Show on 16th and 17th November at the Novotel Hotel – Hammersmith. 
The National Asian Wedding Show is very pleased to announce Pugata Jewellery as a sponsor of the show as well as headline sponsor of India Fashion week London.  
The National Asian Wedding Show boasts the accolade of being Europe's largest Asian Wedding Show with a reputation spanning over 14 years.  
This year the show moves to its new home the prestigious Novotel Hotel – Hammersmith covering over 8,000 square feet with over 340 exhibitors emulating the unprecedented success of the previous year. 
Pugata was founded by a love of luxury and developed by a small team of jewellery enthusiasts. It has grown to embody the perfect mix of eclectic and modern design, classic heirlooms and outstanding craftsmanship. Visitors to this year's show will have the unique opportunity to view the latest collections including bridalwear from Pugata, offering key ideas and inspiration to those who are planning their perfect wedding with their perfect jewellery. 
Pugata C.E.O Zak Patel explained why there is a great deal of synergy between Pugata Jewellery and the National Asian Wedding Show: "This is the ideal platform to showcase our luxury bridal Jewellery collection to clients who are set to make that very special and lifelong journey together.  
"Pugata's Jewellery collection is the perfect synthesis of refined jewellery design and unparalleled craftsmanship including unique designs for the contemporary woman, offering a range of stunning diamond rings, neckwear, earring and alluring bracelets. 
"We are delighted to have been announced as the headline sponsor of India Fashion Week London, which will feature the latest trends from the Indian Sub-Contient complimented by Pugata's stunning and sophisticated designs." 
Manny Singh of The National Asian Wedding Show said: "I am very excited about working with Pugata and I look forward to a long-standing association with the brand." 
For more information, please contact: