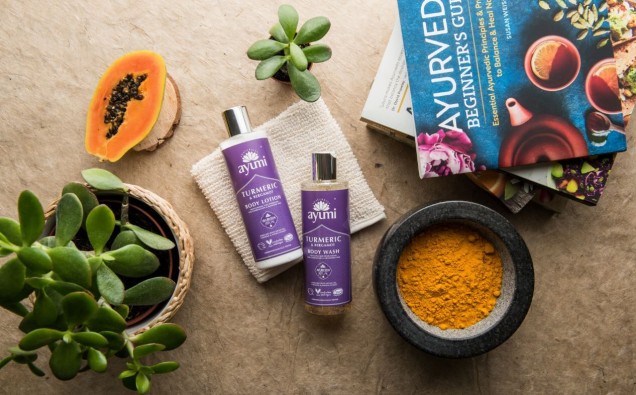 Ayumi Naturals Review
Turmeric Range for Combination & Blemished Skin
Ayumi is an innovative and unique brand which is re-inventing skin and haircare across the globe. Inspired by Ayurveda, the ancient Hindu system of medicine, the company use herbal and natural ingredients in their range, which help to replenish and renew the body. Invented and formulated by a family business, each product is created with expert care and attention in mind.
Ayumi's Turmeric range is designed to target combination and blemished skin. It includes a luscious body wash, face wash, face mask, face scrub, body scrub and face cream. Perfect for the winter weather, the products treat tight and dry skin with a specially mixed herbal remedy. Each one of the lotions/creams has a smooth formula that brightens and hydrates your complexion, leaving a light and spiced smell behind.
Ayumi Hair Oil
Have dull and dry hair that's prone to breakage and a lack of lustre? Ayumi's organic hair range is here to help protect you from the modern-day rituals of styling, blow-drying and dying your locks. Ayumi's organic coconut oil has a thick and rich constituency, and can be applied all over the scalp, roots and hair to replenish and refresh your mane. The brand's bio-active growth and repair oils are also great to condition your hair and give it the essential vitamins it needs to add texture, strength and shine.
Ayumi is a dermatologically tested, 100% Vegan and Cruelty-Free Business. All hair oils are mineral-free, and have 0 parabens, paraffins, silicones and GM ingredients. Only pure, organic solutions are utilized, which makes Ayumi approved by the Soil Association and PETA. The brand's exclusive ranges can be found in many mainstream supermarkets and stores, including Holland & Barret and Tesco's. They can also be purchased directly from the company's website at www.ayumi.co.uk.
Manisha Bhanot