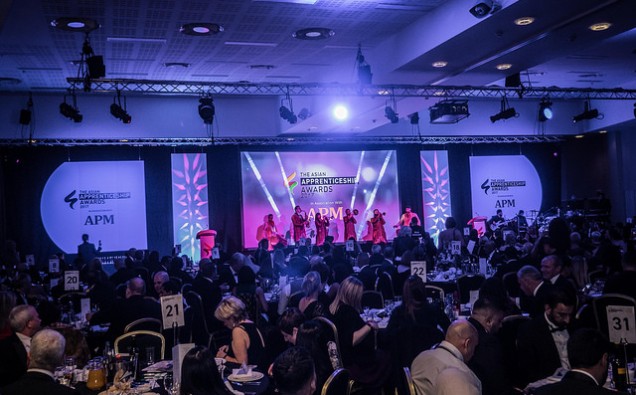 Over 500 people attended, as leading British Asian apprentices and their respective companies were rewarded for all of their hard work. The Edgbaston Cricket Ground in
Birmingham was the venue for the 2nd Asian Apprenticeship Awards. Apprentices from all over the country and the best in education and business were invited to the awards.
Over 20 awards were handed out on the night to apprentices and their employers. Naila Bibi from Aspire Housing won the Apprentice of the Year award, as well as dominating the Finance, Legal and Professional Services Category. Director of the National Apprenticeship Service, Sue Husband, was awarded for her overall contribution to
apprenticeships.
Charlie Mullins, a school leaver at 15, who went from being a plumbing apprentice to become Britain's first millionaire plumber, was the guest speaker of the night. Broadcaster and journalist Suzi Mann and Kasim Choudhry, Director of ThinkFest Events hosted the awards. Comedian Hardeep Singh Kohli, singer Nasa Munir, and The Band Baja provided the entertainment.
Founder of the awards, Safaraz Ali, said the aim is to bring in more British Asian youngsters into apprenticeships, as British Asians are not represented enough in apprenticeships. The awards are in support of the Government's target of increasing
the number of apprentices by 20% by 2020.
The main focus of the awards was to celebrate the efforts of raising awareness, encouraging success and inspiring everyone. Global training provider APM was the main sponsor of the awards, along with organisations from business, education and training and the military.