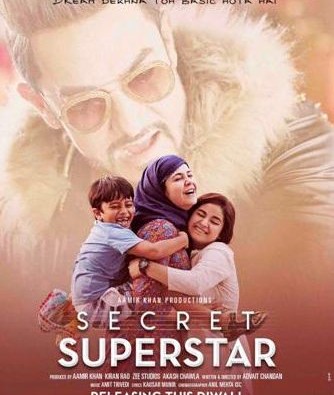 Aamir Khan reunites onscreen with Zaira Wasim in a female-centric film that breaks gender stereotypes – Secret Superstar – in cinemas now, produced by Aamir Khan Productions and Zee Studios and distributed worldwide by Zee Studios.
Khan continues to redefine the landscape of Indian cinema with Secret Superstar, placing a young, female protagonist at its centre, who pursues her dreams against the tide of societal and familial pressures. Secret Superstar is helmed by a stellar performance by rising star of Indian cinema, Zaira Wasim, who is well on her way to dominating the Indian film industry for decades to come.
Surpassing her flawless debut in Dangal, she essays the role of a young girl challenging convention to follow her dream of becoming a music superstar to heartfelt perfection.
Secret Superstar is written and directed by Advait Chandan, one of Aamir Khan's most noted protégés, having crafted his skills under Khan's tutelage in modern classics of Indian cinema such as Dhobi Ghat and Taare Zameen Par.
Music is at the heart of the narrative, with a soundtrack composed by Amit Trivedi.