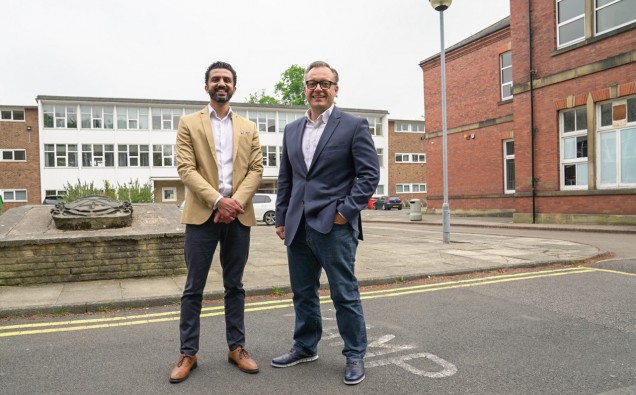 Penny Appeal's Board of Trustees are pleased to announce the recruitment of Alex Leith as the charity's new Chief Executive Officer.
Alex brings extensive experience into the organisation with an illustrious career spanning tech, digital marketing, and finance. Having worked on multi-million-pound campaigns with leading household brands, Alex will bring his corporate expertise into the charity sector, which has faced incredible challenges in the wake of the pandemic.
Chair of Trustees of the Wakefield-based charity, Mohammed Jahangir said, "We are excited to have recruited Alex as our new CEO. He brings an incredible wealth of skills to the role. Our interim CEO Harris Iqbal has done an incredible job in the past 18 months. This includes launching a new 5-year strategy, breaking records in annual income, driving a full change management plan as well as ensuring improving effectiveness and efficiencies whilst leading our COVID-19 response worldwide. Sadly, the need for humanitarian intervention, both in the UK and around the world has only increased in recent times. We are confident with Alex at the helm, we can continue to grow in our service to those in need, offering an essential lifeline to vulnerable people around the world."
Alex is also the first non-Muslim to be in such a role within the Muslim-led charity space. It represents the organisation's commitment to championing diversity and cross-cultural collaboration. Mohammed Jahangir went on to say, "While the values and vision of Penny Appeal are firmly inspired by our Islamic faith, they are also universally accessible. In Alex we see a leader who recognises the power of communities coming together for the greater good."
Alex will start in his new role on the 21st of June. He said, "Since its founding in 2009, Penny Appeal has created a truly remarkable humanitarian legacy, lifting generations of people out of the poverty cycle. I was inspired by the tenacity and appetite of the leadership to strive to always do more for those in need. I'm keen on rolling up my sleeves, learning on the job and bringing my all to the table." On joining a Muslim-led charity, he added, "Diversity is more than a tick-box exercise, it's about recognising and leveraging the strength we have in our differences. I'm proud to have one of the most diverse boards and workforces in the charity sector, together we represent the best of Britain."
Alex's appointment comes after Interim CEO, Harris Iqbal has chosen to focus on a wider portfolio of consulting work in the public and private sector and scale his family business in the health and leisure industry, whilst continuing to provide senior support to Penny Appeal. He said, "It has been an honour to lead the lifesaving transformative work of Penny Appeal over the past 18 months during a deeply challenging and complex time for the charity. I'm grateful for the support and trust from the board, staff and donors extended to me over this time. I remain ever-committed to Penny Appeal and will continue to work closely with the organisation, as well as with Alex as he assumes his new role."
Entrepreneur, founder and trustee of Penny Appeal, Adeem Younis added, "From humble origins, Penny Appeal has now raised over £100 million for life saving causes both at home and across the globe. With the leadership demonstrated by Harris during his tenure in tough times for the sector, our impact and growth has surpassed our greatest expectations. It is with regret that we see him stand down. Nevertheless, we are really excited about Penny Appeal's next chapter and are certain under Alex's stewardship, Penny Appeal will reach new heights and levels of success as we return to our new offices in the heart of the beautiful Thornes Park in Wakefield to begin the next chapter".