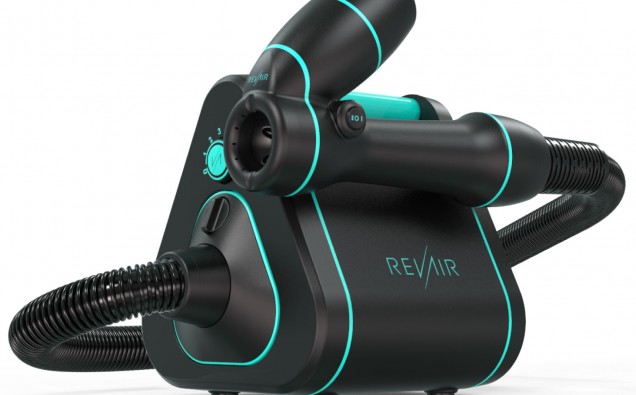 RevAir is the world's first and only reverse-air hair dryer. The RevAir component has been carefully created to gently straighten and dry your hair, leaving a shiny, frizz-free finish in a fraction of the time.  RevAir is suitable for all hair types, whether you have curly, straight, wavy or coily hair.
RevAir uses cool air to dry your hair, which gives you soft, silky hair instead of frying your hair or leaving you with a burnt smell. The product is easy to use and dries the hair as quickly as possible.
I received the RevAir total package which includes: one RevAir dryer, heat producing wand, reverse air base unit, a 7ft X 2.4m hose, flat elastic hair ties, quick start guide, operation manual, warranty card, live large carry-all bag, a flat elastic hair tie, cinch it up round accessory bag, up & atomiser spray bottle, up for grabs sectioning clips, a bundle up hair towel and a mesh well accessory bag.
The reverse air dryer was easy to assemble together, and the instructions were simple to follow. Once the air dryer was put together, I switched it on and began drying my hair. As my hair is naturally curly, I found that RevAir dried my hair in less than 10 minutes and left my hair looking straight, soft and silky. The air was cool on my hair and skin, which was great as my normal hairdryer tends to burn my scalp and neck area. I personally love the hair towel as its super soft and keeps my hair in place.
The heat-producing wand is light and easy to hold, compared to other hair dryers that can be quite heavy. The RevAir total package costs £359, which can be costly for some. However, it dries your hair quickly and leaves your hair tangle and damage-free. For a tamed, smooth and professional style blow out which you can achieve in the comfort of your own home – it's definitely worth the price.
If you would like to purchase the RevAir for yourself or for a loved one, then visit their website www.myrevair.co.uk and don't forget to connect with RevAir on Facebook, Twitter, Pinterest, Instagram and YouTube, where you can view a variety of videos on how to use RevAir.
REV IT. SHARE IT. #MYREVAIR