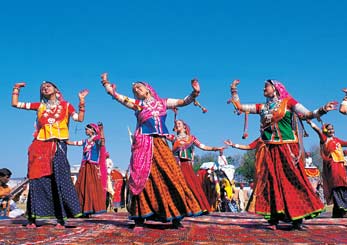 Six Places to Visit in Gujarat
Gir National Park
This hilly, forested, 1412-sq-km sanctuary between Veraval and Junagadh is the last refuge of the Asiatic lion, best spotted between December and April. In terms of conservation, Gir is a massive success story, with lion numbers doubling since the 1960s, so big cat sightings are pretty much guaranteed. The only access to the park is via authorised safari, booked in advance; when you're driven through the thick forests at dawn, if you're lucky, you may spot agile chinkaras (gazelles), dainty chital (spotted deer), nilgais (large antelopes) and elusive jaguars. Most visitors stay in the wildlife lodges and hotels in and around the little town of Sasan, such as the Asiatic Lion Lodge or the Gir Birding Lodge. For something more luxurious, there's the newly opened eco-resort, Woods at Sasan. If you haven't secured a safari permit in advance, you can still spot lions and jaguars in the Devalia Safari Park – a small reserve within a reserve.
A feast of festivals
Gujarati cuisine is famous across India for its lavish spices and flavours, and chefs and street-food vendors go into overdrive for the state's many festivals. During the Navratri festival in September or October, Hindu devotees perform mass dances to honour the nine incarnations of the goddess Durga, swapping the standard Gujarati menu for special dishes made without meat or grains. The Uttarayan Kite Festival in January is another extraordinary spectacle, filling the skies over Ahmedabad and other cities with a kaleidoscope of kites, from enormous whales and tigers to tiny 1-rupee fighting kites, while food carts serve seasonal treats such as jalebi (dough swirls soaked in syrup) and undhiyu, a stew of beans, yams and other vegetables, cooked in a buried pot heated from above. In November, attention shifts to the Rann of Kachchh, as a tent city emerges from the salt plains for Rann Utsav, hosting everything from dance and music performances to delectable Kachchhi foodstuffs.
Champaner & Pavagadh
Few sights in Gujarat make such an indelible impression as this Unesco Heritage Site. Even if you're not a pilgrim looking to pay your respects to the evil-destroying goddess Kali at the Kalikamata Temple atop the sacred volcanic hill of Pavanar, it's well worth tackling the three-hour pilgrim trail and ropeway for the all-encompassing views from the top. Nearby, the mosques inside the ruined, centuries-old Gujarati capital of Champaner feature some of the most exquisite stonework you're ever likely to see, with standout sites being Jami Masjid, Nagina Masjid and and Saher ki Masjid.
Shatrunjaya
Most days, you see a stream of pilgrims dressed in their finery, snaking their slow way up Shatrunjaya hill – one of the holiest Jainism sites. Most walk barefoot. Older pilgrims are carried by porters. Join the pilgrims, and it'll take you less than two hours to tackle the 3300 steps leading to the spectacular temple complex at the summit of the hill, where Adinath, the founder of Jainism, is said to have meditated beneath the rayan tree. Don't miss the wonderfully detailed carvings inside the splendid Adinath Temple; then just allow yourself to get lost in the narrow walkways and drink in the atmosphere. The pilgrimage is particularly impressive during the Kartik Purnima festival, when the trickle of the devout becomes a flood, flowing up the arid slopes of Shatrunjaya, and stopping at smaller temple tunks (enclosures) to pay their respects along the way.
Craft villages of Kachchh
For centuries, the craftsmen and craftswomen of Kachchh – one of India's richest areas for handicrafts – have perfected their craft, creating remarkably fine textiles of superb quality. But that's not all. Kachchh village communities, scattered around the arid province, also specialise in wood carving, block printing, pottery, bell making and more. Using the capital of Bhuj as your springboard, you can engage the services of a knowledgeable local guide, such as Salim Wazir or Kuldip Gadhvi, who can tailor your visit to the villages of Kachchh according to your interests. Standout artisans include Vankar Vishram Valji, a weaver family in Bhujodi; Parmath – specialists in Ahir embroidery; Traditional Rogan Art in Nirona keeps alive the ancient art of rogan painting, while Dr Ismail Mohammed Khatri excels at block printing using natural dyes. The Living & Learning Design Centre Crafts Museum is a superb introduction to the region's creativity, and if you're short of time, you can pick up superb textiles and weavings at the Kutch Mahila Vikas Sangathan, Kala Raksha, Shurjan and Khamir cooperatives around Bhuj.
Ahmedabad
The intense, bustling capital of Ahmedabad, India's first Unesco heritage city, is likely to be your first port of call in Gujarat. A little overwhelming at first, it blows you away with its wealth of centuries-old mosques, mausoleums and temples and wins you over with its excellent museums and its terrific dining scene. The best way to tackle it is to stay in its historic heart, preferably in a characterful hotel, such as the Deewanji Ni Haveli, House of MG or French Haveli. Foodies have their work cut out, choosing between grazing at street food stalls at Ratri Bazaar, tucking into thalis at the likes of Gopi Dining Hall and exploring Gujarati cuisine at atmospheric Vishalla. With a reliable local guide, check out the unmissable Calico Museum of Textiles, the splendid Hutheesingh Temple, Gandhi's former headquarters at Sabarmati Ashram and the impressive Jama Mosque and Siddi Sayid's Mosque. If you have time, head out of the city to see the remarkable Modhera Sun Temple and the Rani-ki-Vav, the elaborate step-will in Patan.