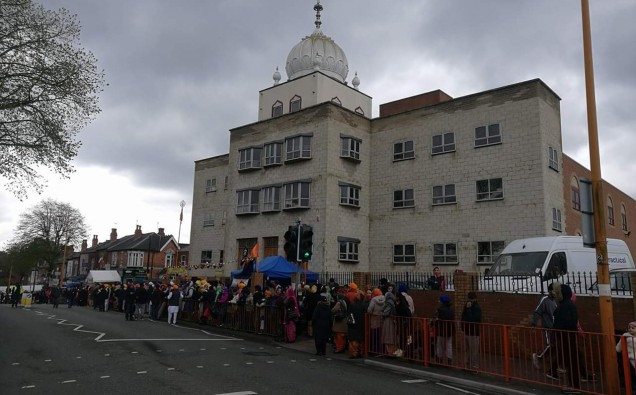 The temple on Rookery Road, was vandalised recently during one evening at around 5.30pm. The sacred sight had its windows smashed in and damage to some external door was faced on the rear end of the building.
The Gurdwara is tribute to Bibi Balwant Kaur Soor, most commonly called upon as Bibi Ji (grandmother) for respect. The loving matriarch was porn in the village of Soos in the state of Punjab, India in 1915. After being widowed at the young age of 23, she took it upon herself to help others who shared her plight by collecting donations to help those in need. She did this by organising sat-sungs (religious songs) at her family home and the homes of others, which are at the core of Gurdwara worship today.
West Midlands Police is examining the assault which occurred soon with aid of the special forensics department. It is believed that bricks were lobbed through the windows in order to smash the glass and cause damage to the temple. Luckily, no one was harmed and damage to the inside rooms of the Gurdwara was kept to a minimum.
Police have made an appeal for eyewitnesses or individuals with knowledge of the attack to get in touch with them to reveal more about the case. A West Midlands Police representative said the department did not think that the assault was racially triggered.
He included: "Enquiries continue and anyone with information is asked to contact police via Live Chat at www.west-midlands.police.uk between 8am and midnight, or call 101 anytime quoting crime reference 20BW/126384P/19.
"Alternatively, Crimestoppers can be called anonymously on 0800 555 111."
Handsworth Panjabi Sikh group site Shere Panjab reported the vandalism assault on its the social media platform Facebook. The post stated that after a couple of the gorup's Sevadars (community volunteers) touched base at the Gurdwara sahib and addressed the administration board we, they the option to explain that this assault was not racially inspired.
They added: "We can also confirm the Gurdwara does have CCTV which they decided to handed over to the authorities.
"Our first intention was to make sure Guru Maharaj (The Sikh Holy Book) was safe and no sangat (association) had been hurt.
"Whatever the motive or politics behind the situation our Gurdwara's should not be attacked, we will continue to monitor the situation and update Sangat further on this matter."