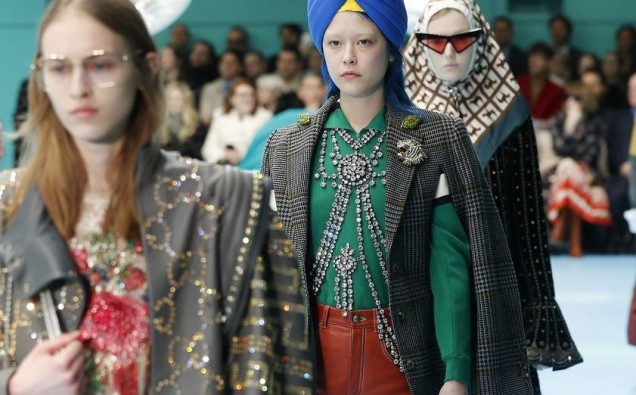 Italian Fashion House Gucci has come under serious backlash after listing a headpiece titled 'Indy Full Turban' online. The garment in question first appeared on the US retailer Nordstrom's website, retailing at £790. It has been described as an insensitive purchase towards members of the Sikh religion and faced much scrutiny from critics.
As a response, one member of the Sikh Coalition posted on Twitter that the turban is: "not just a fashion accessory, but it's also a sacred religious article of faith". It is believed that Gucci has disrespected the turban's origin and made their in-house runway models wear the head-piece in a gesture that mimics cultural appropriation.
The fashion newspaper Women's Wear Daily followed up on the incident by reporting that the product's name had been changed to 'Indy Full Head Wrap' in order to avoid further offence. The head wrap has now become sold out, and Nordstrom set out a Tweet stating their apologies shortly afterwards. Gucci have so far not commented on the matter.
Nordstrom and Gucci are not the only brands who have marketed turbans and other similar headwear in the past. Other prestigious fashion powerhouses such as Valentino, Anna Sui, Missoni, and Julia Clancy have formerly sold the headwear as well.
A spokesman for the Sikh Council UK, Sukhjeevan Singh, commented that Gucci's version of the turban has caused a particular outcry due to its similarity to the everyday turbans adorned by practising Sikhs.
"What makes this case different is that this turban is like mimicry. This commercialisation of the turban by Gucci is deeply offensive and feels degrading because the turban represents our honour."
"As Sikhs, we're a very open religion," said Singh. "I've seen other headwear or head scarves folded in a way and they don't look [exactly] like a Sikh turban. If that [same] cultural sensitivity was taken into account [with Gucci], I do not think this issue would have arisen to this degree because it hasn't in the past."
Manisha Bhanot