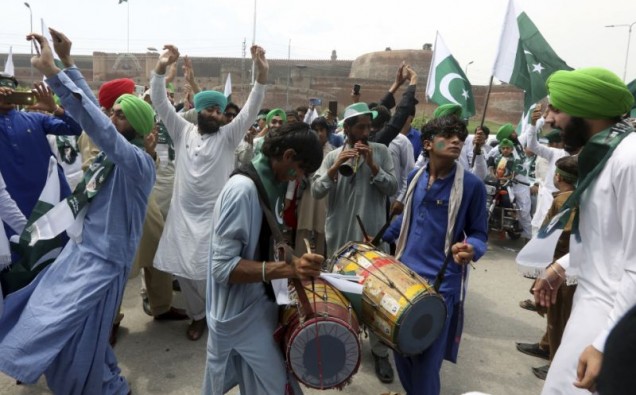 The Sikh community in Pakistan is a small but thriving one.  Although the Pakistani government's National Database and Registration Authority recorded the number of the Sikh population at 6146, it is difficult to pinpoint an accurate figure as the group was not included in the country's most recent population consensus.
However, alternative sources claim the Pakistani Sikh population is much higher, estimated at being as high as 30,000.
Most Pakistani Sikhs live in Punjab, where Sikhism has its roots. In fact, the founder of Sikhism and the first guru, Sri Guru Nanak Dev, was born in Rai-Bhoi-Di Talwandi which was later renamed Nankana Sahib, in today's Pakistan.
Many Sikh relics, holy sites and places of worship are based in Pakistan and are protected by The Pakistan Sikh Gurdwara Prabandhak Community (PSGP).
Majority of these sites include numerous gurdwaras, glorious architectural splendours which are "gateways to the gurus."
After the India-Pakistan Partition in 1947, a majority of Sikh's relocated to India, and many of the gurdwaras were either left abandoned or destroyed.
In recent decades, however, they have been restored and maintained as places of pilgrimage, following the 1972 Simla Agreement with India, which offered pilgrimage visas allowing Sikh "yatris" or pilgrims entry into Pakistan to visit holy sites and places of worship under a specially arranged process between the two governments.
The pilgrimage is an exciting and emotional time for Sikhs around the world. Pakistan is home to some of Sikhism's holiest sites including the burial site of Guru Nanak, Gurdwara Kartarpur in Narowal.
Religious relations amongst the population are often warm, and in a true show of unity, thousands of Sikhs, Hindus and Muslims gather every year in Nankana Sahib to pay respects to Guru Nanak in front of Gurdwara Janam Asthan, known to be the birthplace of Guru Nanak, to celebrate the birthday of Sikhism's founder.
Pakistani Sikhs also celebrate the National Independence holiday with as much merriment and vigour as their Muslim counterparts. For Sikhs, Pakistani or otherwise, Pakistan is seen as their first home. With a long and entrenched religious history, there is a special connection Sikh's feel with the country, especially the Sikh diaspora on the other side of Punjab who experiences a yearning for their homeland.
In his book Walking With Nanak: Travels in His Footsteps, author Haroon Khalid says:
"Sikh history is hardly mentioned in Pakistani textbooks."
Ask any Sikh yatri who has travelled thousands of miles to see his beloved Guru's birthplace, and you will perhaps gain just a fraction of the joy and serenity he feels.