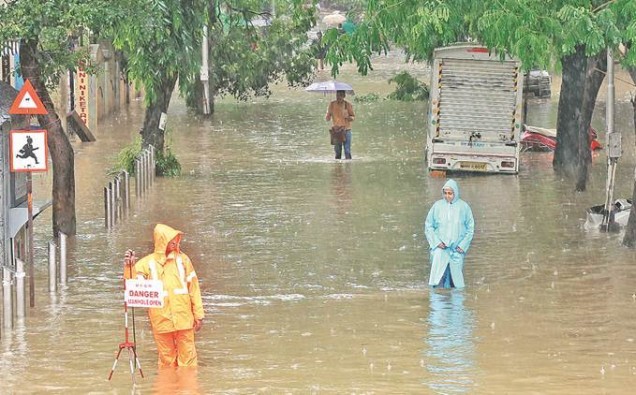 Death toll rises as many are crushed or drown in horrific weather conditions
The death toll in Mumbai stays increasing as many are feared to be stuck under debris, or to have unknowingly drowned. In Malad East, Mumbai, a wall collapsed on hutments which left 21 people dead, similarly, in Kalyan, the wall of a school had collapsed on a residential structure killing three people, and two men died in a closed car in Malad after the car sunk in the water.
Met department officials have confirmed that this is the most torrential rainfall in the city for over a decade. Specialists have commented on the rapid construction and bad urban planning as the cause for such conditions in Mumbai. Many of the victims were labourers that had been working at construction sites in suburban areas. Authorities have claimed that walls had been weakened by the constant rainfall, hence them eventually collapsing.
Due to flood-like conditions, railway officials had released a statement announcing that the suburban rail network, also known as the city's lifeline, will not be running on majority of their routes, including from the central railway – one of the three main rail lines in the city – they called the situation the "nature's fury".
Mumbai's international airport had also shut down their main runway following reports of a plane skidding off the runway when landing, in the result of the heavy downpour, however, stated that no passengers were injured in the incident. The financial capital of India has the second busiest airports in the country with 1,000 arrivals and departures per day, and now more than 50 flights have been diverted and another 50 cancelled. The second runway is still currently open; however, flights landing are expected to be cancelled.
Residents have been advised to stay indoors and stay away from the flood zones; many have blamed the city's civic authorities for not preparing for the heavy rainfall.
The rain was predicted at more than 200mm a day.
Navkiran Bains