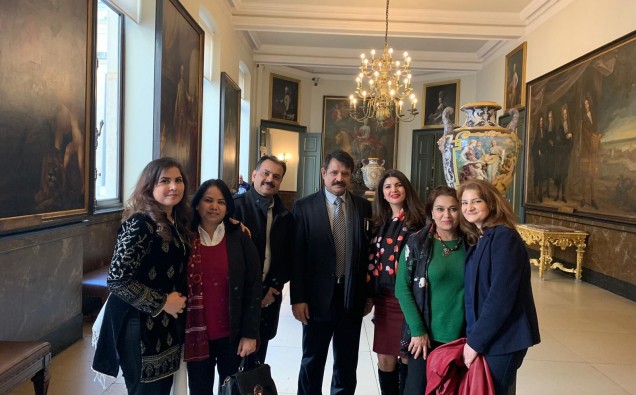 It was a great honour for APWA's Chair Riffat Mughal, Senior advisor Samina Raja & Vice Chair Rana Shama Nazir, to attend various seminars on International Women's day at the European Parliament in Brussels.  
 Riffat Mughal spoke on the historical celebration of women, and the importance of standing together with all women who suffer, struggle and fight for a better future and world. She spoke of the bravery of women and why they must not accept any poor circumstances they face, and instead they must challenge them for the better. Riffat Mughal said it was very important to lead with integrity. APWA is all about empowering and educating women and reaching out to grassroot level. Riffat spoke about the seminars held by APWA on Mental Wellbeing and Breast Cancer, which is an issue affecting many women, and the impact it has on their family.  
 The meeting was followed by a seminar ran by the European Literacy Circle at the Town Hall, hosted by Imran Saqib and Secretary Mohammad Nasir. The Chief Guest in attendance was Mohammed Oriaghli – Minister for public heritage and opportunities of equal rights Brussels Parliament.  
 In her role as founder of the British Kashmiri Women Council Rana Shama Nazir highlighted the plight of women in Jammu Kashmir, she spoke with great emotion on how the world is talking about the empowerment of women. However in Kashmir the social, economic, cultural and political achievements of women cannot be celebrated due to uncertainty and prevailing circumstances. Rana spoke about women living in Indian-occupied Kashmir, a place that has been at the heart of a violent conflict, where women have been at the receiving end occupation as victims of violence by the State.  
 Rana Shama Nazir said the Kashmiri woman does not get a fair chance to discover her talent, but to face humiliation every day. Dear ones are killed; they are the worst sufferers and are deeply affected as Kashmir is the highly militarised zone of the world. Rana Shama Nazir explained how their pain and agony is beyond the imagination. 
 APWA expressed their feelings and signed the book of condolences in memory of the victims in New Zealand at Brussels town hall….May they Rest in Peace.