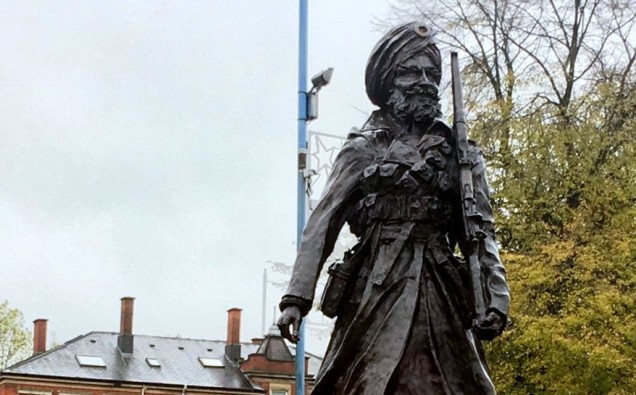 For the first time in the UK, a statue is being unveiled to commemorate the war effort of Indian soldiers who served the British Empire during the 20th century.
More than one million soldiers travelled overseas from India, as well as the neighbouring courtiers of Pakistan and Bangladesh to serve in WWI and fight for Britain. According to historical figures, almost 100,000 of these soldiers perished in the battlefield, and around another 70,000 were injured. However, nothing has been done to commemorate their bravery and service until now.
The memorial statue comes as a recent creation from artist Luke Perry, public space is being created to showcase the piece by Sandwell Council, and the project has been funded by the generous donations of Sikh Guru Nanak Gurdwara in Smethwick. When asked for his inspiration behind the artwork, Perry said: "We seem to be in a place where the British are ashamed of the Empire so it is not a subject that is raised often but that does not alter the fact that these men deserve recognition." He further commented: "It is galling they have been overlooked by history."
The statue is an impressive sculpture of a Sikh soldier – complete with a trench coat, utility belt, turban and beard who stands at an impressive 17 feet high. It will be positioned opposite the Gurdwara on a special podium, surrounded by seating and illumination lighting. Thousands of people are expected to come to Smethwick and see the sculpture after it has been built, as a new swimming pool will open in the area for the 2020 Common Wealth Games and visitors will find the sculpture situated outside of Rolfe Street Station.
Steve Eling, Sandwell Council leader, released the following statement in relation to the unveiling of the statue: "I am very proud that Smethwick, a place where many people from the Indian subcontinent have made their home, is paying such a striking tribute to the very important role played by South Asian service personnel during times of conflict. I hope this contributes to the growing recognition of the sacrifices that servicemen from Commonwealth countries have made for our country."
Special hard-work and dedication has been put into finishing the memorial in time for the 100th anniversary celebrations of the First World War armistice. Members of the community are thrilled at the completion of the memorial and look forward to seeing how visitors travelling into their local area will receive it.
By Manisha Bhanot.