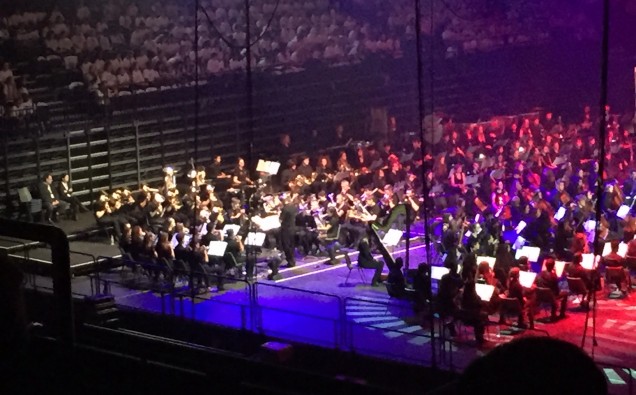 Schoolchildren across Birmingham performed at a national concert commemorating 100 years since the end of the First World War.
Some 180 children, supported by the education charity, Services For Education performed at the National Children's WW1 Remembrance Concert at Genting Arena, NEC, in tribute to the millions who died, including the 540,000 often forgotten war children.
The emotional tribute included a choir of 2,500 children from across the UK, dressed to represent a Remembrance Poppy. The programme also included a joint youth orchestra of 160 young musicians from Birmingham School's Symphony Orchestra and Ealing Youth Orchestra, as well as performances from The Birmingham Guitar ensemble, involving 22 musicians.
There were dramatic performances and a parade of 57 flags representing the national participants involved, supported by Birmingham and West Midland Scouts and Guides.
The concert climaxed with a mass signing of 'Lest we Forget', a song written and co-composed by Dr Ron Dawson. The concert expected to attract an audience of more than 9,000 people.
Stuart Birnie, interim head of the Music Service at Services For Education, who helped coordinate the concert, said: "We were honoured to work so closely with Dr Dawson on this project, which was the largest in the country.
"The concert provided a wonderful opportunity for children across the country to come together through music to remember and celebrate the sacrifices made by the children of war.
"Through the Music Service we hope to continue to provide such unique opportunities for the schools and academies we support across Birmingham and the West Midlands."
The Department for Communities and Local Government (DCLG) provided the majority of the funding for the concert to go ahead. The Big Lottery funded the children's travel to the concert, whilst the associate board of the Royal School of Music provided funding for the commemorative t-shirts for the children.
Dr Dawson, who is also the author of more than five books in the Scary Bones series, said: "I was delighted that Services for Education and the Department for Communities and Local Government were able to make this concert possible.
"First and foremost, this concert was assembled by the children to remember all those who died. If the spirit and duty of Remembrance is to endure it must be passed from generation to generation. The ambition of this Children's Centenary Concert is to renew that remembrance and our gratitude to those who lived, fought and died in that terrible War a century ago."
To find out more about the work of Services For Education across Birmingham and the West Midlands visit www.servicesforeducation.co.uk