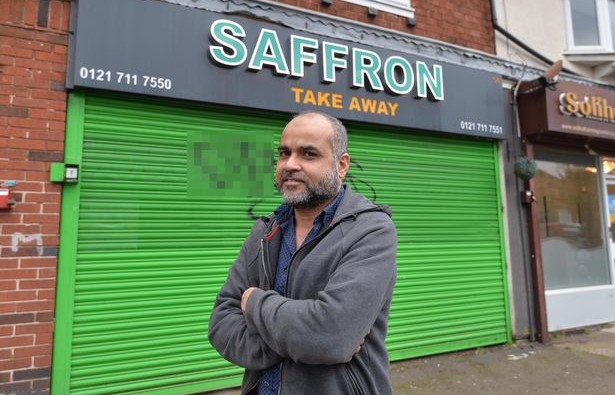 Shocking Racist Slur on Solihull Takeaway  
A racist slur which was graffitied onto a local Indian takeaway in Solihull has left the shop's owner devastated.  
Muzibar Rahman is the owner of Saffron Indian Takeaway, which he opened on Damsen Lane in 1995, 24 years ago. Mr Rahman went to his store to find the racist slur 'P***' had been graffitied across the shutters in large black lettering. This left Mr Rahman devasted and has led to him questioning 'Where am I living?' in the modern-day suburban area of Solihull.  
Mr Rahman is 52 years old and has three children, after having moved from Bangladesh to England in the 1980s and settling in Birmingham in 1991. His takeaway was established soon after and is a thriving business in Solihull. Naturally, he was disgusted by the racial attack and said it left him feeling 'victimised and incredibly hurt'. 
The shop owner went onto say: ''I can't really express my feelings. This is something very unusual that has happened. In a long time we have been in Solihull, this kind of this has never happened before'. The incident has left Mr Rahman and his family feeling unwelcome in a country they have called home – 'We've never felt like we're from another country,' he said. The graffiti was a shocking attack to the Rahman family and has left a bitter feeling of displacement and vulnerability. This is to the extent that Mr Rahman reports his family frequently check on him: 
'I just feel victimised, incredibly hurt. I had my 19-year-old son text me to see if I was OK. My family were waiting for me as I pulled up at home when I finished work the other night, to see if I was OK'. 
The stain of the abuse remains on the store front as Mr Rahman reported 'It's still on the shutters now. I just don't understand'. Mr Rahman affirmed his horror at the incident in his statement: 'England is my country'. 
 Jemma Tennison