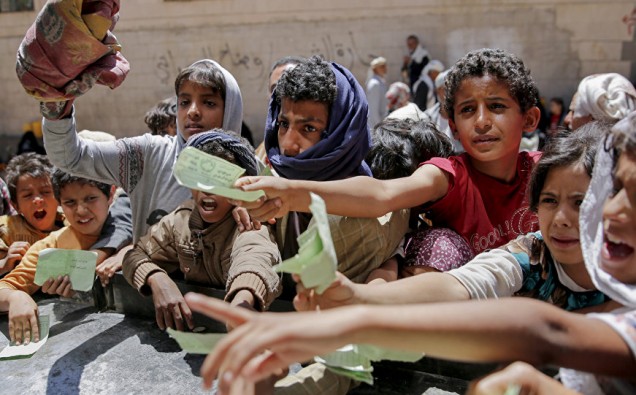 Air-strikes by the Saudi-led coalition are causing the most catastrophic famine to occur in Yemen at present, according to the European Assembly. The situation is affecting around 13million people who are being killed and injured by the attacks, who are all civilians.
The attacks began three years ago as a result of Yemen's Civil War. It has been retaliated against by Saudi Arabia, who is backed by the powers of the US, UK, and France, that all wish to see an internationally-recognised government set up in Yemen.
At least 10, 000 innocent civilians have lost their lives as a result of the on-going war and strikes organised by outside governments upon the country. The UN's humiliation co-ordinator for Yemen stated: "I think many of us felt as we went into the 21st century that it was unthinkable that we could see a famine like we saw in Ethiopia, that we saw in Bengal, that we saw in parts of the Soviet Union – that was just unacceptable…Many of us had the confidence that would never happen again and yet the reality is that in Yemen that is precisely what we are looking at."
So far, due to the violence of the civil war, there has been much bloodshed in Yemen. Houthi Rebels supported by Iran have seized much territory in the country, including the capital of Sana'a.
According to local aid officials, the number of infant and child murders has risen significantly in Yemen, during the last three months alone. The Save The Children Charity in particular mentioned reports of having insufficient personnel and tools to deal with the number of casualties they faced.
Due to the decline in social and government order, Yemen's currency has collapsed. Food prices have more than doubled, increasing the immediate threat of the famine and leaving many young families to suffer alone.
By Manisha Bhanot.