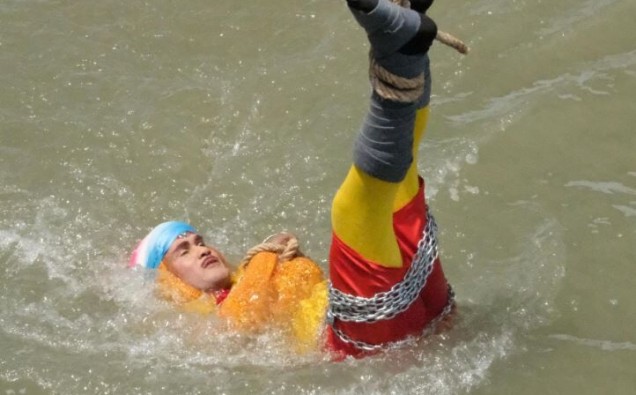 The infamous Wizard Jadugar Mandrake has been reportedly found dead after one of his risky magic tricks went wrong at a crowded riverbank in India.  
Born in Chanchal Lahiri, Kalkoata, it was not the first time that Mandrake had put on a dare-devil performance in front of on looking spectators. The 40-year-old deceased had successfully completed an identical stunt 21 years prior in the same river. He had been shut inside a bullet-proof glass cube which was sealed off with a chain. During the routine, he was lowered from Howrah Bridge but according to onlookers, managers to re-emerge in seconds. 
Years later, Mandrake tried his luck again in 2013. He was lowered approximately 30 feet in a cage which was bound by six locks. However, he was afterwards assaulted by members of the crowd who argued his performance was a fluke. Those in attendance said they saw him swim out of an almost invisible trap door in less than a minute. 
When he attempted the trick for the third time, Mandrake sadly met his end. In front of a heavily anticipating audience of locals, his loved ones and even regional police, was lowered into the water by a crane whilst being blindfolded and tightly shackled. However, he failed to re-emerge and was reported as missing for hours. 
Mr Jayant Shaw, a photographer who said he had witnessed some of Mandrake's previous acts said: "I never thought he would not come out of the water this time."  
After a lengthy 24-hour search, rescue workers found his body during the late hours of the evening. The news of the magician's death was affirmed by Syed Waquar, Deputy Commissioner of the Port Division, Kolkata Police.   
Before Lahiri was released into the river by a metal hook in a bid to create a Houdini-type trick, he allegedly said it would be "magic" if he freed himself, but "tragic" if he could not. 
Manisha Bhanot