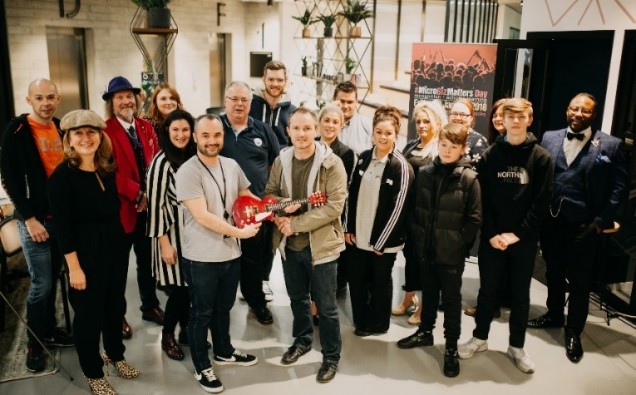 After three years in London and then Manchester in 2018, the City of Hull will host the live streaming event for the fifth annual #MicroBizMatters Day on Friday, January 11th 2019.
The UK's biggest small business membership organisations are actively involved. Enterprise Nation, Forum of Private Business (FPB), Federation of Small Businesses (FSB), Freelance Heroes and the International Association of Bookkeepers will all feature in both Hull and business networks across the UK. The day will also involve live streaming to the partnering organisations' members. Paul Uppal, the Small Business Commissioner is also travelling to Hull to support #MicroBizMatters Day 2019.
Hull City Council, supported by the John Cracknell Youth Enterprise Bank, is to play a significant part in this annual, social media day of recognition, action (#PayIn30Days) and learning. The Day celebrates the contribution made by the 5.5 million micro businesses to the UK Economy and hundreds of thousands of micro business owners are encouraged to kick off the new business year by giving 11 minutes (#IGave11) of their time to support other business owners.
The base for #MicroBizMatters Day is at the historic Guildhall in the heart of the City of Hull at which the co-founders and organisers, Tina Boden and Tony Robinson OBE, will host a number of online sessions including topics such as Family Business, Freelance Heroes, Makers, Creators or Manufacturers, Network of Networks and Entertainment. Additionally, there are many VIP interviews and workshops by the Forum of Private Business on 'Late Payment' and 'Saving the High Street' with one from the FSB on 'Digital Taxation'.
#MicroBizMatters Day always trends number one on Twitter and the live streaming from the event takes place on YouTube. Over 150 business owners are expected to contribute to the social media content by attending the Hull event. Some of the local individuals and businesses are Hannah and Sue from Inspire Ignite, Leah from Amethyst Cleaning, Ben Robinson from Prehistoric Hull, Sophie Green of Seams Impossible, Phil Ascough, Ross Bennett of Engaging Education, T Arran Photography, Janet Adamson and 15 year old Millie Notarantonio of Millie Rose as well as Charles Cracknell and Mike Notarantonio who are Youth Enterprise Network Champions.
Co-Founder of #MicroBizMatters Day, Tony Robinson OBE, aka The Micro Business Champion, said "We are so grateful to the truly enterprising City of Hull for hosting our social media and the live streaming main event. We will publish on the day our 'Small is Beautiful Roll of Honour' of business names and networks which support EF Schumacher's and our #MicroBizMatters movement's values and campaigns such as #PayIn30Days. After 22 years of campaigning this is the closest we've got to succeed with #PayIn30Days and it does appear that many in all political parties and business membership organisations have recognised how important it is for 7,500 large businesses to stop bullying 5.7 million medium, small and micro businesses with 45 to 120 days 'take it or leave it' payment terms."
Tina Boden, Co-Founder of #MicroBizMatters Day, aka The Tiny Troubleshooter, added, "We hope that everyone will #IGave 11 minutes to help another business owner on Friday, January 11th, 2019. Show the world that #MicroBizMatters. Together we have the #PowerOfPlenty and it is really important that we support each other. This includes buying products and services from each other which is why we have our #Indie25ER campaign. I buy not just 25% of products and services from independent business owners but average over 80% week on week."
Councillor Daren Hale, Deputy Leader Hull City Council said, "I am pleased that the 5th #MicroBizMatters Day 2019 is to be held in Hull and it's fantastic that young entrepreneurs in Hull from the Making Changes for Careers Programme (MC4C) are supporting the Day by playing an active part in the day in showcasing their businesses alongside established micro businesses in the City. Hull's involvement in this annual day of recognition, action and learning further illustrates our commitment to micro businesses in general and youth entrepreneurship in particular and I am delighted that Paul Uppal the Government's Small Business Commissioner will be coming to Hull for the event."