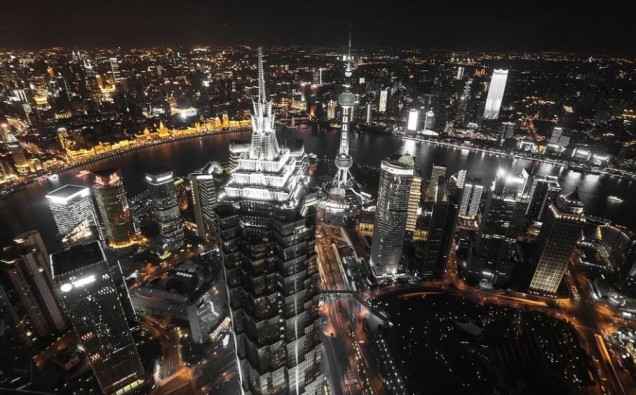 On October 1st, 1949, the Chinese communist leader Mao Zedong declared the creation of the People's Republic of China. In 1953 Mao declared its first five-year plan for the development of a newly independent country. Unfortunately, between 1958 and 1961, china faced the greatest famine of the century, in which almost 30 million people died. For a country with an unstable economy and unsafe premises, it was hard to stand up again.  
Despite hardships, leader Mao has been influential with his strategies. With a population of 550 Million, China started its journey of development. The country recovered itself immediately and focused on the development of industries, infrastructure, education, and commercial applications, etc. in 1967, they joined the space race as well. 
Among the developments in infrastructure and industries around the country, China has joined the Tech race very early. Also deserving of mention is a Chinese city which 40 years ago was just a region of fishing towns and swamps. It was a village surrounded by paddy fields and rulers but is now china's 7th biggest city with a population of 12.5 Million in 2018, counting unregistered inhabitants and workers it is almost 20 million. Shenzhen is the central gateway city for foreign travellers coming into China. You might recognise it as China's main electronics producing and export town, however, did you know it's thought of as the second financial capital in the country and is China's most affluent huge city? China has already urbanised its more than 58% population as compared to the 1980s 18%. Considering the estimations by 2050, about 292 million more Chinese will live in cities. 
Regular technology expos are held in smart cities such as the likes of Barcelona in Spain, but China's Shenzhen exhibits the biggest fair. General Managers of local delegations when talking to BBC said they are seriously focused on tackling pollution by eliminating fuel consuming cars and replacing them with electric motors.  
One representative said: "Compared to other cities, Shenzhen is clean". Because China is creating cities at an astonishing rate to urbanise regions, there is another concept of the super-smart city. They have planned to develop 19 gigantic clusters and a super-smart city with inhabitants of around 40 million people. In regards to this concept of advancement surveillance and security are vital. For that purpose, Alibaba headquarters spent two years in developing a system that can analyse data from surveillance cameras to control traffic systems. Other than that at the governmental level that are also building systems to monitor the environment accurately and provide more security in their smart cities. 
China is the world's fastest-growing economy with some mega projects like silk roads and urbanisation, they are also working on digitalising their nation and converting cities into smart cities which will not only increase the reliability of their inhabitants but also attract outsiders as well. 
By Muhammed Nadeem Jahangir