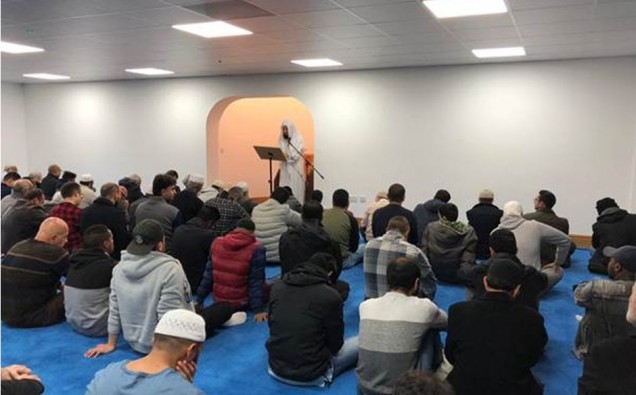 York Mosque has joined Islamic Relief UK in its commitment to help end violence against women and girls by partaking in the "16 Days of Activism against Gender-Based Violence" which is an international campaign to challenge violence against women and girls. The campaign runs from 25 November, the International Day for the Elimination of Violence against Women, to 10 December, Human Rights Day.
As the largest Islamic faith inspired humanitarian organisation in the UK, the organisation has launched the "Honour Her" campaign to fight all forms of violence against women and girls, including domestic abuse, sexual violence, human trafficking, forced and early child marriage, female genital mutilation (FGM/C), and so-called "honour" killings.
York Mosque, which made headlines in 2013 for serving tea and biscuits to English Defence League supporters after the far-right group arranged a demonstration there, delivered a Khutbah (sermon) during Friday prayers to raise awareness of the issue and to help put a stop to the cycle of gender-based violence.
Imam Abid Salik of York Mosque, who delivered the Khutbah, said:
"The scriptures in our religion make it very clear that Islam absolutely shuns violence against women and all forms of abuse against one another. As an Imam I feel that it is my duty to raise awareness of this issue in an effort to help tackle it globally. Having worked with other Imams as part of IADA (Imams Against Domestic Abuse) we understand the importance of this campaign by Islamic Relief UK and wholeheartedly support it. The community in York has proven in the past that violence will not win and once again we are united in our message to denounce any form of violence against women and girls."
The "16 Days of Activism against Gender-Based Violence" campaign has the support of key Mosques around the UK, including the Secretary General of the Muslim Council of Britain, Harun Khan, and the Chief Imam of the East London Mosque Imam Abdul Qayum.
Islamic Relief UK is asking its supporters, Islamic faith leaders and the wider UK Muslim community to raise awareness, mobilise and take action on this issue through signing up to the "Honour Her" campaign pledge online.
Tufail Hussain, Deputy Director of Islamic Relief UK, said:
"As a British Muslim charity, Islamic Relief is committed to ending violence against women and girls worldwide as part of our core mission to save lives. Our "Honour Her" campaign was launched earlier this year to encourage debate on this important matter and to help inspire action in communities across the world.  We are especially promoting the campaign in November and December as part of the global movement for 16 days of activism on violence against women and girls.
"We are incredibly grateful for the support of mosques across the country. We know that religious leaders, civil society, faith institutions and men as well as women are essential to drive real change and we welcome their involvement in tackling this issue. It must also be recognised that this is not a Muslim problem but a cultural and societal issue. If there is one message here today; it is this: violence against women and girls, in any shape or form, is not acceptable".
Both here in the UK and worldwide, Islamic Relief UK is working to promote community dialogue, financially and socially empower women and put a stop to the cycle of gender-based violence. The campaign represents a global effort across the Islamic Relief family to tackle Gender Based Violence (GBV).
Islamic Relief UK is calling on the support of Muslim faith leaders throughout the country to help spread this important message. They can do so through by pledging to support the campaign and speaking about it in the next Khutbah.
At a major UN conference on women's rights in March, representatives of Islamic Relief Worldwide publically called on Muslim faith leaders, governments, institutions and civil society actors to commit to establishing gender justice globally. The organisation also published a series of policy papers on the issue of VAWG within humanitarian settings including Early and Forced Marriage and FGM/C.