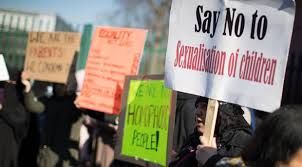 A local headteacher welcomed the ruling which stated 'keep the children and staff safe from the protests'. 
Birmingham City Council has declared to stop protests at Anderton Park School over LGBT equality teaching. The new provisional request came into power right away as it holds a ban around the primary school in Sparkhill, forbidding all the protests in the roads surrounding the school. 
The new request also bans chief protestors Shakeel Afsar, Rosina Afsar and Amir Ahmed from partaking in or organising challenges in the exclusion zone. Anderton Park headteacher Sarah Hewitt-Clarkson gave her response to the decision, which is delivered by Mr Justice Warby QC, who was sitting at Birmingham Civil Court. 
Sarah Hewitt-Clarkson said. "It's a perfect day for us, for the youngsters, guardians and staff of Anderton Park. We are pleased a new order request has been allowed that keeps children and staff from the protests.  
"It also reinforces the assurance for us as it refers to all parts of educating, not just equalities. We are satisfied we can return to class and tell our staff we will be free from the protests outside the school for the rest of the year" she said. 
The new request is just about a perfect representation of a temporary order allowed in an emergency; it was preceded at the High Court in London just a few weeks prior. There was a swell around the court when the judge, declaring his decision, first announced that he was releasing the first request.  
He said he was "not pleased" the council had exhibited all relevant proof at the first hearing, nor was he persuaded of its choice to apply for the order without advising other parties. On that premise, he stated, he was not going to extend it. On that point, he proceeded to say he was instead forcing another brief request that included a few, yet not all, highlights of the first order.  
He stated: "I think that it's conceivable that the inquirer (city council) will build up at trial a portion of the protesting that has gone past legitimate limit points and strayed into hassling, disturbing or upsetting behaviour, through its sincerity, timing and setting."  
Labour MP Roger Godsiff whose constituency in Hall Green covers the school has previously said parents protesting against teachings about diverse relationships "have done nothing wrong" and agreed that the books were 'age inappropriate'. Following this comment, he was given a warning by Labour's chief on 14 June not to repeat his support for the protesters.  
A trial at the end of July will determine whether protests can continue. 
Tauseef Asif