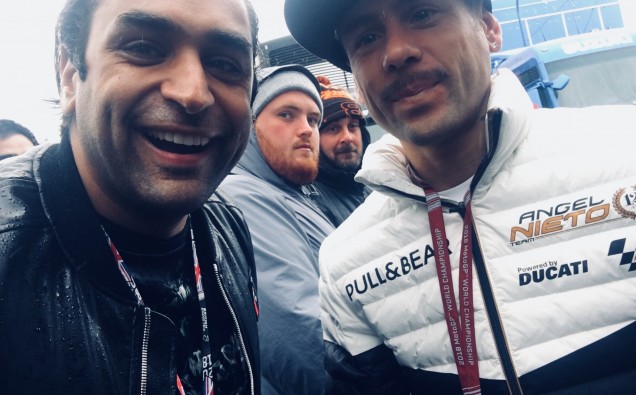 THE MotoGP British Grand Prix was cancelled after torrential rain caused "unsafe" track conditions at Silverstone but that didn't stop presenter and actor Kiran Rai to talk and mingle with the bikers at backstage of Silverstone and even clap them at the finish line when on there practice run and was invited to be in the suite box and document the entire day! 
With heavy rain lashing down throughout the weekend, the MotoGP race had been brought forward from its original 10:00pm AEST start time to 8:30pm AEST in a bid to beat the weather.
But the rain continued to pour on Sunday morning, forcing officials to delay the start and then cancel the event for safety reasons
MotoGP race director Mike Webb admitted the new surface at Silverstone, which was laid in February, was to blame for making the track unsafe for racing.
"We've had a number of years' experience here in very wet conditions recently with the old surface and have been able to run races," Webb said.
"This year, with the new surface, is the first time we've encountered quite so much standing water in critical places on the track. So yes it's a direct result of the track surface.
"The staff have done an unbelievable effort over the whole weekend to try and make the track safe and until the last minute they were still working, but unfortunately we couldn't battle nature."
"I am so sorry," said Silverstone circuit managing director Stuart Pringle in a video statement on Sunday, promising to contact all ticket holders during the week.
"In the end the riders felt that the conditions were not going to be right today to race at all and they made the decision not to race."
Four-time MotoGP world champion Marc Marquez, who leads the championship, added: "We are very sorry for all the fans, we are the first ones that want to ride but safety is the priority.
"It has been a long, unusual, tiring day that we hope won't happen again."
"The Safety Commission analysed the situation and I think the Race Direction has to be thanked; they listened, and in the end, safety was everybody's main consideration — one of us riders is in hospital already.
The cancellation of the race came after Tito Rabat suffered a broken leg during the fourth free practice session on Saturday.
Rabat, who had just crashed his Ducati in heavy rain, was walking away in the gravel at Stowe corner when he was hit by Italian Franco Morbidelli's crashing bike.
The last time a premier class race had to be cancelled outright was the 1980 Austrian Grand Prix, which was called off due to snow, although the 2011 Malaysian GP, where Marco Simoncelli was killed in a crash, was also deemed not to have occurred in the official statistics.