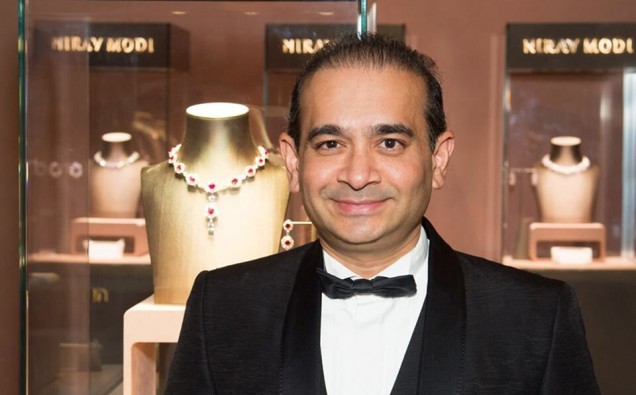 Fugitive diamond merchant Nirav Modi was arrested in London for fraud relating to Punjab National Bank, in a recent ongoing case. He has been accused of stealing thirteen thousand crores and has been a fugitive on the run for the past year.  
After evading the law for all this time, the ex-diamond merchant was arrested in London just last month. The Enforcement Directorate officers were investigating the case. According to these officers, Nirav Modi got arrested from Holborn, a metro station located in central London.  
After UK Home Secretary Sajid Javid certified India's extradition request for Nirav Modi in August 2018, the Westminster Magistrate Court issued the arrest warrant for the fugitive. 
Within a few hours of his arrest at the metro station, he was sent to a hearing in the Metropolitan Magistrate's court. Nirav Modi had offered a hefty sum of half-million pounds as a bail bond but the court had rejected it. The court, however, decided that he will be in jail until his next hearing. 
Modi's team of lawyers were previously confident in securing bail for their client, as is often done in cases of financial fraud. This would have enabled him to carry out his business and maintain his lifestyle while the case progressed in the British judicial system.  
Hence, Modi had walked to a bank in London with confidence to open an account. He had to show his identity which would be run through several software checks to ensure credibility. During one such scan, his identity raised concerns and the employee informed the police. The cops suspected Modi's motives and arrested him. 
As per the official report, Nirav Modi and his uncle Choksi fled India in January last year. This happened just before the biggest scam of theirs in Indian bank history was revealed. Nirav Modi and his uncle Choksi, with the help of his company, took a credit card from the overseas branches of PNB using fake guarantees of the bank. However, letters of credit evidence the fact that Modi never paid the amount him and his uncle took back.  
Modi was shocked after the court announced the verdict. He spent the following next ten days behind bars. HM Prison Wandsworth, which is one of Western Europe's biggest prisons is considerably better than the Indian jails. However, this is far from the luxury lifestyle that Nirav Modi is typically used to.  
A more pressing question raised by the media is how long will it take to bring Modi back to India? Well, many think that it could take years as the other high profile Indian fugitive Vijay Mallya's case is also on the same track. It is uncertain when these two individuals will be brought back to their home country at all. 
Priyanka Dutta