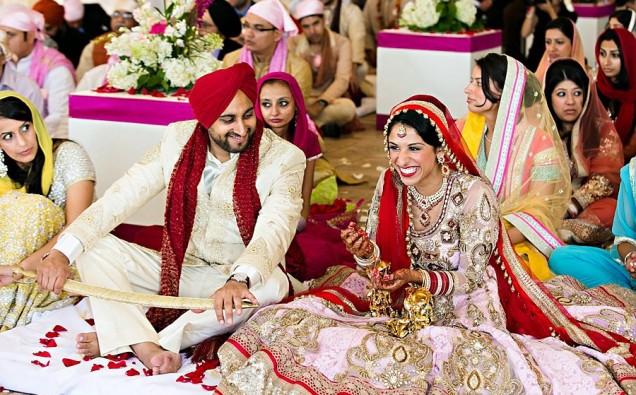 The Sikh wedding rituals start with the engagement ceremony. The families start the Sikh wedding ceremonies by reading the entirety of the Guru Granth Sahib. After this, the wedding date is fixed. Following all of these rituals, both families present each other with gifts and the bride and groom exchange rings. 
After the engagement, the groom's family visits the bride, and his mother covers the brides head with a chunni. His family also gifts the bride with clothes and jewellery. Afterwards, the mehndi ceremony starts. Mehndi is artful henna designs on the hands and feet of the bride to be. 
For the chooda ceremony, the bride's maternal uncle gifts her with a set of red bangles, which are dipped in milk. Golden ornaments called Kaleerien are tied to the bangles. Then the Haldi ceremony begins, which is similar to the Hindu Haldi ceremony. A paste of turmeric powder is applied to the bride and groom before the wedding for a natural glow. 
In the Gharoli ritual, holy water is brought from the Gurdwara, and the bride and groom have to bath from it. The water is bought by the sisters-in-law of the couple in an earthen pot (gharoli).  
Anand Karaj refers to the main Sikh wedding ceremony. This means blissful union. The family go into the Gurdwara and attend the Kirtan, which is a set of religious songs that are sung. A Guru Granth Sahib, the holy book of the Sikhs is brought out, and the priest recites a collection of prayers, whilst the bride and groom are seated. 
After this, the Laavan Phere ritual starts. Lavan is the four prayers which seal the marriage. The bride's scarf and the groom's shawl are tied together as a symbol of unity. They then take rounds around their holy book, the Guru Granth Sahib as the Laavan is chanted. The groom leads the rounds holding a sword. After this, a ceremonial sweet is offered to the guests. The desserts are either made by the bride's family or by the Gurdwara in a certain way, and it is blessed and considered holy.