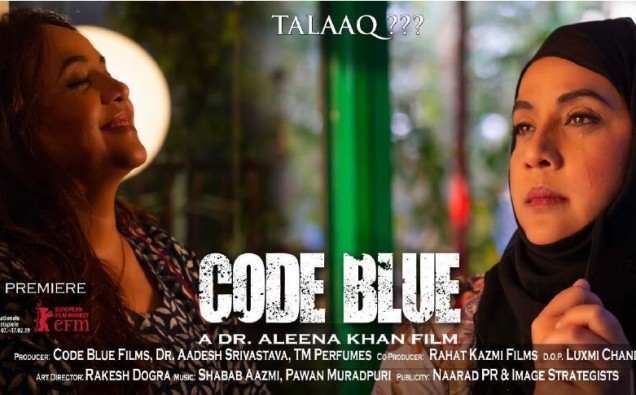 Alena witnessed the devastating impact Triple Talaq, the controversial practice that allows Muslim men to end their marriage by stating 'talaq' a total of three times had on many women she came across in her medical career as a doctor.  
This encouraged her to use the medium of movies to highlight the impact on women who are faced with this instant divorce practice, which is outlawed in Pakistan and Bangladesh, with a current ban in India.  
Code Blue is inspired by an innocent girl story's whose is faced with the consequences of her husband committing adultery and deciding to use the practice to separate. The title signifies the story telling of bringing her back to life after the words of triple talaq leave her soul shattered.  
Speaking about her venture, Alena said, "Muslim women are forced by society to sacrifice their lives for the needs of a man's wishes, often emotionally and physically. They are judged by society with little consideration for the value of their existence."  
Alena has a clear vison for her movie which is to ultimately stop the practice and not create unfair bias when a Muslim couple divorce or separate.  
She feels the Berlin Film Festival an opportunity to continue with her vision, "We took it to Berlin because the film is voice of women in general and Berlin brings us wider audience and the reach of message is global."  
Being from the Muslim community Alena hasn't deterred from bringing such sensitive issues to the spotlight for discussion and debate, with a hope to empower women. She says, "Educate yourself know your rights, raise your voice."