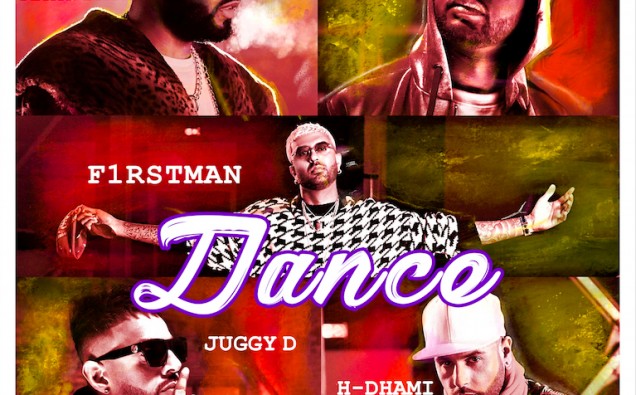 "Unity is the key…" says Dutch Pakistani artist F1rstman in the teaser to the highly anticipated anthem 'Dance'. The forthcoming single brings together no less than five of the most recognised and most popular Asian artists – F1rstman, Juggy D, Raxstar, Mumzy Stranger and H-Dhami. Releasing worldwide on Friday 7th December, 'Dance' is a game-changing collaboration for Asian music fans globally.
'Dance' is a party anthem of epic proportions which is influenced by a clash of cultures, from the wave of Latino fused hip hop to the contemporary sounds of Urban Punjabi, produced by Dutch producer Harun B.
Ahead of releasing the brand new single, F1rstman says: "I have always looked in on the UK Asian music scene as a great source of energy and exciting sounds. It's a unique place where artists make urban music, hip hop, dub-step etc and fuse it with Punjabi language, Bhangra music, Bollywood references. This mix of Desi and western culture was something I also represent and I wanted to bring together some of the best names from the UK to share this exciting project with me. 'Dance' is the first time you'll hear all of these artists together on one track and there is a lot more collaboration in the pipeline from all of us as we move into the new year."
Juggy D adds: "This is a huge single and a moment for the British Asian scene where so many of us have come together to make great music. Having been around for over 15 years now I've seen how the times have changed and how the music industry is evolving, and this feels like a very exciting time for our artists again. 'Dance' is shaping up to be the biggest collaboration we have seen for a long time."
Mumzy Stranger adds: "I've experienced first hand how scenes have been formed and make huge impacts. Growing up in East London the UK Grime scene was literally exploding on my doorstep. Seeing some of the UK's biggest grime artists and MC's regularly collaborate made me think why we can't do the same in the British Asian scene. F1rstman is an exciting artist and working with him and his talented team of producers in Holland has been a great experience for all of us and I'm really looking forward to more of the same in 2019."
H-Dhami adds: "The Punjabi market has changed over the years and Bhangra music is constantly developing and taking new influences. From the 70's and 80's Bhangra bands through to the early noughties when Bhangra met hip hop beats, it's been an exciting journey for our sound. 'Dance' continues to evolve what modern Punjabi music sounds like when fused with urban and even Latino influences. F1rstman brings a European flavour on 'Dance', which adds a unique touch to this release."
Raxstar adds: "As a rapper in the UK we now have so many role models to look up to. Stormzy, Giggs, Skepta etc have all dominated but they did so by supporting and co-signing each other. The environment to collaborate and co-exist amongst artists in the Asian music industry is definitely something which needs to be developed on more. I'm excited to have teamed up with all of these great artists for 'Dance' and hope it inspires others to collaborate more regularly as we work towards further success."
F1rstman is a multi-platinum selling Dutch artist who has a number of hits in his native Holland. He burst onto the Asian scene in 2017 with his track 'Kabhi' and followed up with the massive 'Round & Round' feat Sama Blake. In 2019 F1rstman will release an album featuring a host of collaborations from the Asian music industry including the single 'Dance'.
'Dance' is out today on all digital platforms with launch parties in both London and Birmingham on 13th and 14th December respectively, where all five featured artists will perform the single together.