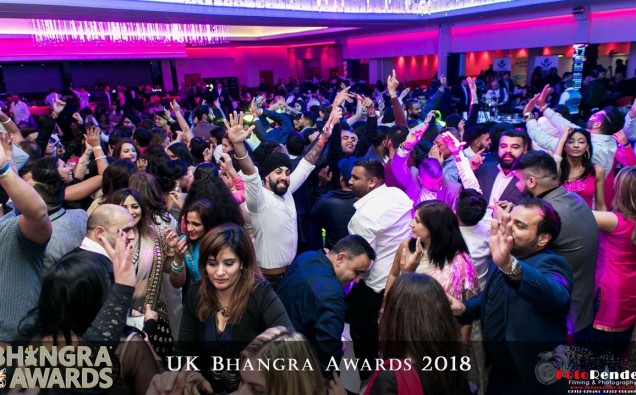 After the smash hit UK Bhangra Awards 2014-2017, Culture Unite & Lyca Radio presented UK Bhangra Awards 2018 on Saturday 10th November in the luxurious Regency Banqueting Suite, Birmingham. This prestigious red carpet event celebrating its 5th anniversary included 24 awards, live performances, dinner and dance. The event was superbly hosted by Boy Chana, Pam Sidhu, Apna Bhajan Jagpal and Chandni Kahn.
There were breathtaking live performances by the Balwinder Bhatti Band, 2 Tricky Project Band, Haripa Dancers, Dhol Frequency, Inderjit London, Biba Singh, Jin & Seetal, Shubhra Bhambra, Jassi Premi, Dara Kandola, Nesdi Jones, Khushi Kaur, Shin Cobra, Asha Jassal, Royal Keys Pianist, Emily Marina Violinist, Ravneet Kaur, Sohan & Aruna Kailey
A full venue attendance was made up of Bhangra industry fraternity, VIP's and general public. Bhangra fans from all communities were united and delighted at the grand ceremony. This tremendous showcase unveiled the best artistic talent within the nation and beyond. All recipients of the stunning crystal trophy were truly honored, knowing they had received probably the highest accolade in the industry and joined an elite list of winners at the world's only Bhangra Awards event.
CEO of Culture Unite Mr. Bobby Bola was quoted as saying "The team at UK Bhangra Awards thank everyone that has made the event a huge success in promoting Bhangra, Culture & Unity".
UK BHANGRA AWARDS 2018 WINNERS LIST
(1) BEST PUBLICATION – The Asian Today
(2) BEST WEBSITE – DesiBlitz.com
(3) BEST RADIO PRESENTER – Shandy Kambo
(4) BEST TV PRESENTER – Mohanjit Basra
(5) BEST DJ ROADSHOW – Higher Class DJ's
(6) BEST DHOL ARTIST – Ministry of Dhol
(7) BEST DANCE GROUP – Haripa Dancers
(8) BEST MELA – Glasgow Mela
(9) BEST SONGWRITER – Gurpreet Virk (GV)
(10) BEST MUSIC PRODUCER – Vee Music
(11) BEST MUSICIAN – Gubzy Lackhanpal
(12) BEST BAND – Brotherhood Group
(13) BEST RECORD LABEL – Hi-Tech Music
(14) BEST VIDEO PRODUCER – Sunny Dhinsey Filmlore
(15) BEST MUSIC VIDEO – Subaig S. Kandola ft Desi Routz – She Dances
(16) BEST SINGLE – Jaz Dhami ft V Rakx – Aitvaar
(17) BEST ALBUM – Jaz Dhami – Pieces of Me
(18) BEST NEWCOMER – Dev Nahar & Khushi Kaur
(19) BEST FEMALE SINGER – Seetal Kaur
(20) BEST MALE SINGER – Subaig S. Kandola
(21) BEST URBAN ARTIST – Tazzz
(22) BEST INTERNATIONAL ARTIST – Biba Singh (USA)
(23) SPECIAL CONTRIBUTION AWARD – Harminder Berman & Jassi Premi
(24) LIFETIME ACHIEVEMENT AWARD – Jandu Littranwala
EVENT COVERAGE
Coverage of the smash hit event will soon be broadcast to a worldwide audience on PTC Punjabi, Kanshi TV, KTV, Geo News, CNI News, A1 TV, Beatbox TV.