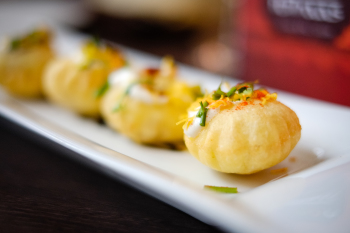 Itihaas is a name in Birmingham synonymous with indulgence and traditional Indian dining and is perhaps more recently identified for its Selfridges Brasserie in the Bullring shopping centre. This could be due to its contemporary £10 beer curry and naan offering which diners seem to flock to, to it's majestic a la carte menu at the flagship restaurant on Fleet street in the City centre
During my past visits to Itihaas, I have always found the food served and the service to be of the highest quality. The décor of the establishment represents its colonial authenticity with brassy colourings, perfect menu translation / descriptions of typical dishes and elaborate artifacts dotted throughout the venue, ensuring the diner has a special and sensory culinary experience.
Itihaas's owner Mr Raj Rana has expanded his growing empire through Itihaas' extensive catering arm, which services a multitude of weddings each year. The interior of the flagship location has been updated with new furnishings and an expanded entrance area , perfect for pre dinner drinks and business rendez vous. Itihaas also hosts the Colmore Curry Club (a networking luncheon) in association with local recruitment specialists Simpkiss Guy. They also work hand in hand with the Whisky Club locally, are members of the dining organisation Gastro card UK( a food discount collective) which further depicts their evolving and supportive approach to business. I am a firm believer in the success of a business being heavily dependent on proprietary vision and so far I think they are doing a great job progressing their vision.
In the Midlands there has been a sudden surge of Asian restaurants trying to make their mark on the Birmingham Curry scene and only few are memorable and open to embracing changes in tastes, flavours and adapting creatively to the ever changing pallets of their patrons. I was kindly invited to sample the Moghul influenced flagship eatery to see what's changed and if indeed Itihaas indeed lives up to its image.
The entrance to Itihaas welcomes the diner into a regal abode, from its oversized hand carved wooden furnishings to its marble floors, it ouzed refined decadence. The sparkling bar and bar staff showcased a range of beverages from fine wine to champagne, cocktails and mocktails. It was clear from the welcome cocktail which I was served the eastern influence prevailed, midori, lychee liquor, grenadine and mango juice was served to me in a chilled glass. My favourite cocktail on the menu consisted of strawberries and cream, when I sampled it, it was truly delicious, with depth and just enough sweetness, a great option for those who prefer the sober option. Along with the cocktails there were aruvedic options too (health drinks in India) , with ingredients such as aloe and cardamom known for their healing / cleansing properties. This pioneering idea is an acquired taste however nice to have as a option just the same.
The plentiful entrees were served on a platter by sweet and warm servers. They comprised of mini chaat (a Bombay street food – fluffed rice and nuts embedded in a spiced mint tamarind yogurt garnish) and mimi portions of Goan fish which had a spectacular zing. Authentic mini samosas were also on offer, crisp an non oily with a light crisp coating and a deep flavour of spiced minced lamb with a dipping pot of chilli.
Feeling like a complete glutton I was escourted into the private dining area, the colonial room where a feast awaited. The table was laiden with Itihaas signature chilli paneer which is somewhat nostalgic, a lobster panchphoran (five spice), hanging naan bread and makhani murgh (creamy mild chicken with fenugreek.) Each morsel from the array of dishes was as succulent and flavoursome as the next, served at a perfect temperature and portion size.
Desert came in the form of Gajar Halwa and kulfi (hot sweetly seasoned carrot pudding blocks with milky ice cream.) The alternative option was mini chocolate and coconut samosas with almond kulfi. I found the deserts to be convivial and delicate. The above was just a sample of what is on offer at Itihaas and in conclusion, the insight was a very enjoyable. The venue, staff, foods on offer and service was both consistent and joyful. If I was to endorse one place in Birmingham where the food truly represents via its culinary talents, I would without a doubt choose Itihaas, a thumbs up from me.
Prices
Assorted Breads (Naans / Parathas / Rotis) £2.95 – £6.25 (selection)
Rice dishes £3.50 – £4.95
Biriyanis £13.95 – £16.95
Side dishes (Raita – flavoured yogurt, Salad and Bindi (Okra) £2.95 – £3.25
Veg mains £8.95 – 13.50
Mains £13.50 – £29.95 (lobster)
Sweets £4.95 – £9.95 (sharing platters)
Hot and after dinner drinks £2.50 – £4.95
Soft drinks £3.25
Champagne £50 – £150.00
Cocktails £6.50 – £7.75
Beer £3.50 – £5.50
Shooters £3.95
Mocktails £4.50
Wines £16.95 – £19.00 (£4.25 – £5.95)