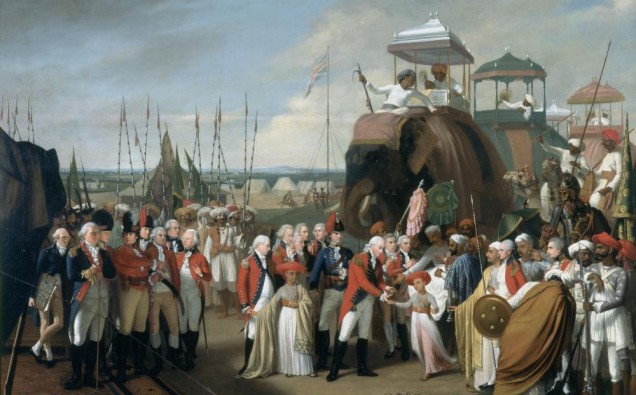 The effects of Britain's colonization of India have been both the creation of a foundation for modern international capitalism and the prohibition of economic advancements in India, a top Indian economist has claimed.
Utsa Patnaik, Professor Emeritus at Jawaharlal Nehru University's Economic Studies and Planning Centre, has recently voiced her conclusions of the staggering amount of money that Britain took from India during colonial rule. The Columbia University Press essay was based on extensive research conducted into the relations between the two nations during the days of empire.
The social effects of colonization are generally better known, such as poverty, disease and malnutrition being widespread and resulting in an Indian life-expectancy of just 22 years old in 1911. Patnaik perused her interest into the economic aspect of this colonial relationship to shed a new light on the extent of damage India experienced.
Between 1765 and 1938, "the drain amounted to 9.2 trillion pounds" with a "5 per cent rate of interest" Professor Patnaik said in an interview with Live Mint this week. This figure, if it were drained from the UK, would collapse the modern economy several times over.
Patnaik states that the key factor was Britain's control over both taxation revenues. India's natural resources, especially tropical goods – as these were "highly prized in other cold temperate countries" – were sold to earn profit for Britain at the expense of the Indian people.
Patnaik focused on The East India Company, as from 1765 onwards it annually took "up to one-third of Indian budgetary revenues"- showing the relentless extents the colonialists took.
The detrimental effects have been recognised even before Utsa's research; Congress leader and writer Shashi Tharoor, in his book Inglorious Empire, had also called British Prime Minister Winston Churchill one of "the worst genocidal dictators".
Patnaik's research also shows how every year the British syphoned off resources equivalent to 26-36% of the Central government's budget. This had the potential to make extensive differences in India's developing socio-economic journey in the 20th century. The economist believes if these international earnings had remained in India, the country would have achieved much greater advancements in healthcare and social welfare.
Despite widespread calls throughout Indian politics for a stream of reparations, the latest UK Governments have taken a firm line against such measures. In 2015, ex-prime minister David Cameron ruled out the possibility of reparations for Britain's role in the former slave trade during a visit to Jamaica, urging Caribbean countries to "move on."
India's unwilling contributions have been claimed as extensive, as "the modern capitalist world would not exist without colonialism and the drain," Professor Patnaik told Live Mint.
Jemma Tennison