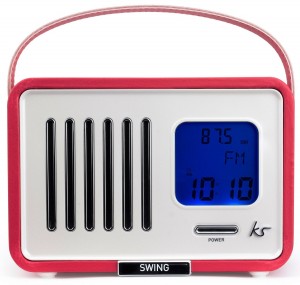 Fresh out of the of swinging sixties, I came across the Swing Alarm Clock FM Radio from Kitsound, after searching for a vintage style radio for quite some time. Having a tight budget, I found that Kitsound certainly catered for that- retailing at around £35 from Amazon.
Practical
I wanted something I could leave on all day whilst I carry on with other work around my office. The Swing Radio allowed me to enjoy music all day without the inconvenience of having to change batteries etc. However, I did have the option to use batteries and make the radio portable- if I wanted. The length of the wire was also very suitable as I could keep it out of reach to avoid any hazards- as I am particularly clumsy. It was small and compact, whilst maintaining a stylish look- making it a perfect addition to my window sill. The alarm clock feature is particularly practical as it allows me wake up to my favourite music in the morning (instead of a horrible alarm noise).
The sound
The speakers built into the device are small but mighty! They are very clear and avoid any fuzzy sound. One thing I particularly noticed is when I move the radio around to different areas of the room, the sound is not affected. I was worried that there would be an echo bouncing around the kitchen especially, but surprisingly, the sound remains flawless.
Specifications
Frequency response: 60 Hz – 18 KHz
Drivers: 65 mm
Output power: 2 W
Unit size: H115 x W72 x D179 (mm)
Weight: 630 g
Overall thoughts
In all honesty, it's my favourite gadget ever! Not only is it easy to use for a tech novice, it fits in perfectly with any environment. You could take it to work and even use it at home. Because of its small and compact size, you are able to discreetly place it anywhere. Or for the bolder personalities- you can always opt for a brighter colour in their varied choices and really make a statement.