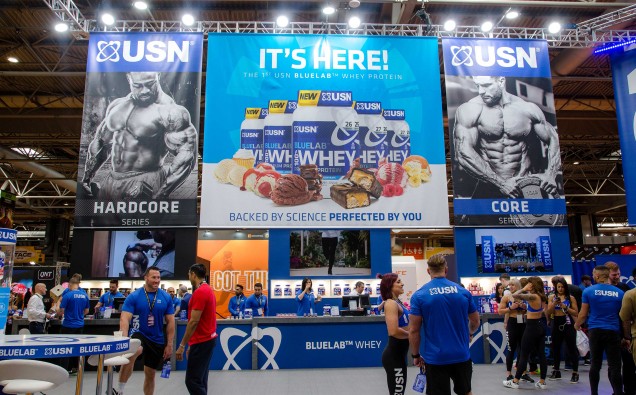 Leading fitness competitions, tens of thousands of visitors and the worlds-leading athletes, BodyPower once again brought the biggest weekend in fitness!  
Around 100,000 visitors flocked to the NEC to celebrate BodyPower's Las Vegas themed 10th anniversary! The show continues to diversify and develop, with a record number of females entering the show, due to a strong focus on lifestyle fitness with many leading athletes in attendance. Paige Hathaway, Michelle Lewin, Jen Selter and Hannah Eden were just some of the female names who attracted the crowds!
As the show develops the traditional markets remain as strong as ever, providing visitors with a broad range of competitions and all things health and fitness. From leading brands to a collection of world-class educators, BodyPower really is the go to event in the industry!
The popularity of competitions showed no sign of slowing for 2018 and the likes of BodyPower Games and Kettlebell Championships amongst many others had a record number of competitors. Terry Hollands hosted the Strongman competition in unforgettable fashion and welcomed buzzing spectators into BodyPower's very own circus tent, while competitors showcased the elite in strength and power. 2018 World's Strongest Man and Game of Thrones star, Hafthor 'The Mountain' Bjornsson attracted hundreds and left fans blown away with his presence. In addition to competitions and seminars, BodyPower brought demonstrations, workshops and Q&A sessions with the leading stars in fitness. Exhibitors didn't disappoint and a range of healthy nutrition brands were in attendance, from the likes of HECK Foods, Kettlebell Kitchen, Eatright and Musclefood, they all projected the BodyPower atmosphere to the masses and provided an unforgettable experience for visitors.
With a strong focus on offering the ultimate customer experience for all, BodyPower saw widened aisles, better queuing systems and opportunities to see everything all in one day!
Nick Orton, Founder and CEO of BodyPower commented, "Our 10-year anniversary didn't disappoint, athletes, exhibitors and amazing competitions all under one roof. BodyPower always has and continues to bring the fitness family together, we must work as one to ensure each and every visitor has a fantastic, unforgettable experience. We lift the nation and we will continue to do so.
Plans are already underway for an exciting 2018 and 2019, including BodyPower on the Beach and the unmissable BodyPower Weekender in Edinburgh. BodyPower Expo 2019 will be all change and experience will be the word on everyone's lips, this is the future for BodyPower and the expo is changing as you know it!"
With a new format and exciting changes planned, BodyPower 2019 is not to be missed. All are invited to witness the evolution of BodyPower at the NEC, Birmingham on the 10th - 12th May 2019.
Information regarding tickets for BodyPower 2019 will be released over the coming months. For more information on BodyPower please visit www.bodypower.com.